The ship has a full sail wardrobe of 8 sails, not shown on this image is the Flying gib or Storm gib which is a small gib used in heavy weather.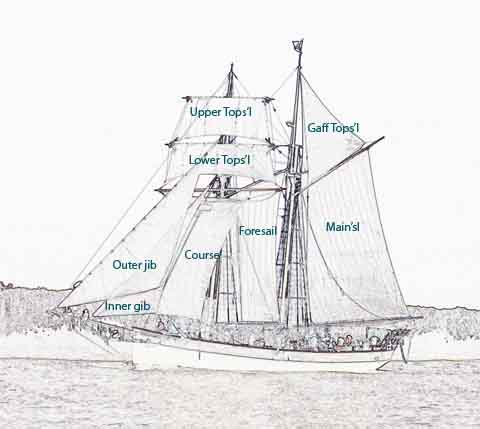 Most of them are made out of Oceania canvas but on the odd occasion we have had to source Dacron instead. Our preference is for canvas as that is more in keeping with the tradition of the vessel.
Below is the layout of the ship above and below decks. Below decks there are two double cabins, the Master's cabin(aft) and the Owner's cabin (for'ard).
On 9th January 2013, the  new Rainbow Warrior arrived at Matauri Bay to pay respects to the original Rainbow Warrior sunk by the French back in 1985. She now lies off the Cavalli Islands, and Ngati Kura are her kaitiaki (guardians). As kaitiaki of the original vessel it was only fitting that they blessed the new Rainbow Warrior to continue the work of Greenpeace. The R. Tucker Thompson was there too. The Tucker's history with Greenpeace is long and in 1995 we headed up to Mururoa with Rainbow Warrior II as part of the peace flotilla to...
read more