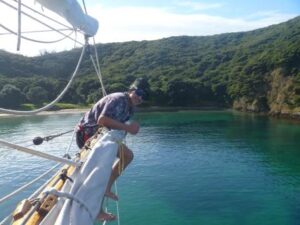 Today started with the usual morning swim, morning duties and then straight into breakfast. Wiremu, Tomas, Mahina, and Manaakitia completed the checks before starting up the engine. We then hoisted anchor and headed towards our days destination in Waiiti bay. With...
read more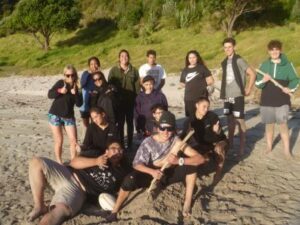 Ahoj friends and family of the Tucker. Day 2 started off with a splash, Eden being the first in the water for the morning swim. Next, the morning chores were completed- scrubbing the deck, polishing the brass, cleaning the head and mopping the floors. After that we...
read more
If you wish to subscribe to our Blogs using our feed click here or on the RSS icon at the top of the page. Select the Live Bookmarks option and then your bookmark will be updated when a new blog has been written.
To view the ship's location, check out Marinetraffic.com
---
Samuel's experience was overwhelmingly positive, he is still talking about the voyage. It has impacted his life significantly, and I suspect in years to come he will reflect on this experience as a pivotal point in his development.
Parent
Evening all, from the R. Tucker Thompson on our first day of the Far North Holdings Leadership Voyage. We started the day in brilliant June sunshine and mirror like seas. After leaving Opua, the Trainees helped set the fore sail as we departed. Tomas and Wiremu hauled...
read more