Kia ora from the Good ship R Tucker Thompson, coming to you from Opunga Cove in the Eastern Bay of Islands. A full half day on board, with the initial bunk allocation and unpacking of bags, personal introductions and then orientation of the ship for safety equipment and general day to day living aboard. Climbing harnesses were fitted to Trainees for a view from the rigging and out on the bowsprit before lunch at Moturoa Island. After dishes were complete we carried out a man over board exercise, then hoisted sails and a quick crossing of the bay in pleasant conditions to our current position.
Some classroom activities with the Tucker Workbook and introduction of the Yachting New Zealand Handbook. Free time while dinner gets underway, the cards are out, conversation and laughter fill the ship as we settle in for our first night. The w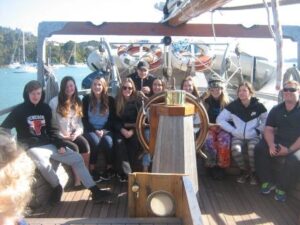 eather is our friend as the breeze which carried us here dies away for the night. Should be a good swim in the morning!