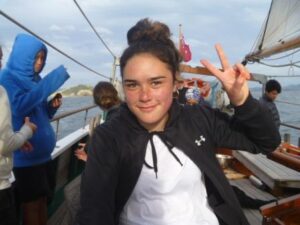 Toru Ra
Kia ora from the Good Ship R Tucker Thompson, another great day in the Bay of so many islands. The swim was the even better than yesterday with sunshine adding to the mixture of splashes and laughter. A calm morning allowed the duties, breakfast and dishes to be complete and navigation classes to get under way. Then it was time to get familiar with the lines again, hoist sail and head across the bay with Keani on the helm. Leon then lost his drink bottle over the side so an impromptu man over board exercise at a much better recovery time while under sail, great team work.
The forecast wind avoided us so we lunched at Paradise Bay as the cake Alex had baked came out of the oven to cool, time for beach sports, a hike, beach clean and lots of laughs as Alicia and Keani rowed Lil Tuck to the beach, the sandcastle competition did not quite create itself.
Clothes pegs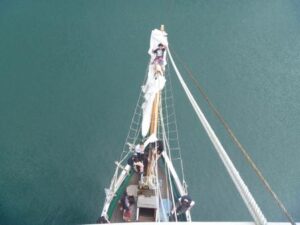 collected, we gathered on the beach for a final game of bat down and four square. With an eye to the weather and a warning from the Metservice we tested our navigation skills and set a course for Whale Bay on the northern side of the Bay. On board the trainees set sail with the comfort of knowing the lines and the excitement of going sailing. Sailing into the setting sun, Roe was up the rig in the slop and Daniel was out on the bowsprit and Leon shared with us his helmsmanship.Alex came on deck with her apple and chocolate cake, vegetables peeled for the boil up dinner, anchor down and ship shape for the night.
Ma te wa.