Greetings from the good ship to thy landlubbers ….
A peaceful night was spent in Oke Bay (no reception, hence the late blog. Here is one we prepared last night)…
After leaving port we had the full orientation and safety briefing of the ship, whilst making our way to the black rocks to shelter ourselves from the chilly winds from the west. A quick and hearty lunch was served. After dishes, we played the blind fold game to build trust amongst the crew, followed by some short lessons and drills on man overboard, abandon ship and line handling. Once completed, a nice breeze picked up, so we set sail and headed for Oke bay where we are now anchored for the night.. The crew are all fat and full of laughter after shepard's pie for dinner………..
Day 2: Was met with "Oh no!" and "That's right!" as Skipper Steve walked through the ship getting everyone up and on deck ready for the ritual mor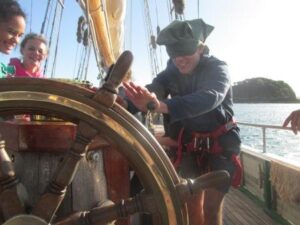 ning swim.
Our "old hand" Fabian who has had previous experience as a trainee on board before, was the first one to jump in and offer words of encouragement to his shipmates.
Daniel and Kyron were very hesitant at first, but once in they assured everyone that it was "quite warm".
Once changed and laundry was hung out, we knuckled down to get our on deck and below deck duties done so that we could tuck into a warm breakfast.
With leadership skills and qualities already showing in Aleigha and Tiaaki, they were both quick to get the dishes crew going so that we could have lessons done to go and enjoy the day.
After an hour or so of lessons, we got everyone into their teams to prepare the ship for getting underway. Kyron, Daniel, Tiaaki and Lisa were in charge of getting the anchor aweigh and they did an excellent job under the supervision and guidance of crew members Pania and Alex. Well done team!
With bellies full of lunch, we are now underway, with all sails set, for the Cavalli Islands, where, unfortunately we will, again, have no reception, BUT! We will be having an excellent adventure, with lots of laughs, tonnes of learning, and a (hopefully) a belly full of kai moana!!!