Hello Family and Friends,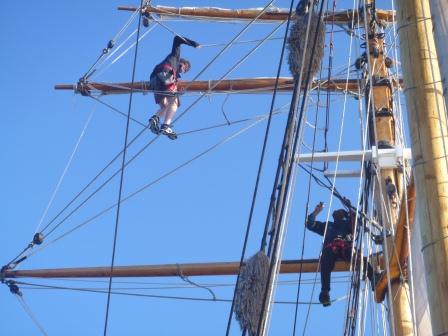 What a big day! Today started early at 0630. We set sails into the sunrise, our destination the Bay of Islands! The sea and sky was kind to us with nice weather and mostly flat seas. Unfortunate the wind was coming from the northwest – not ideal for where we wanted to go but still okay. We turned the engine off and had a quiet and relaxing breakfast looking out at the view of the coast.
While we sailed gently along, Rufaro and Hamish climbed high into the rigging and completed the 'Tucker Challenge' by reaching the end of the second yard arm. We reached the Hole in the Rock around noon. There we lowered the small boat into the water and Wayne took the Trainees on a tour through the rock and into the nearby sea cave. Cool! We even saw a group of seals sunbathing on the rocks.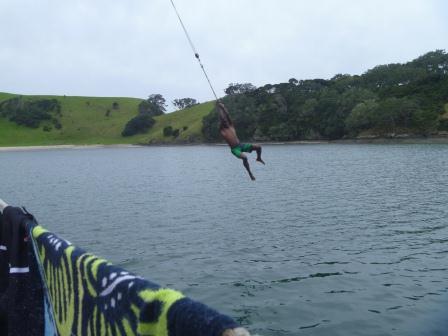 Back underway again, we went around Cape Brett and into the Bay of Islands. Eating lunch the wind got stronger; we leaned over and flew along at 6 knots – just the power of the wind. Many people took the wheel today but Hamish did an especially great job bringing us through the passage at Rawhiti Point. Sails were dropped and stowed. Then all went ashore for a few hours at Urupukapuka Beach for a bushwalk and beach clean and some well-deserved fun time on land.
Now as I write this: Eli and Brittney are peeling potatoes for dinner, Thomas, Tenika and Hamish are baking a cake, Monique is chilling on deck, Tahua is playing the guitar, and Billy, Jacob, Rufaro, Te Morehu, and Kawiti are rope swinging and swimming off the ship. All are getting along well.
Tomorrow looks like rain. So we will move to a sheltered bay for the night.
Po Marie – Good Night!