Around the Cape!
Well, Cape Brett that is. What a start to the day! It began with our first morning swim enjoyed by all being that the water is still so warm. Breakfast and cleaning done, Tim spent some class time with the trainees and covered some important safety information of what to do in an emergency. Then up anchor! Out to sea! Host the sails! Almost everyone riding the waves out on the bowsprit. Jade and Maria got a little wet when the water came up to meet them. Maunga and Bree went up aloft to see the view.
Then the most exciting and special thing so far…. We took the small boat through the Hole in the Rock and also into the spooky and majestic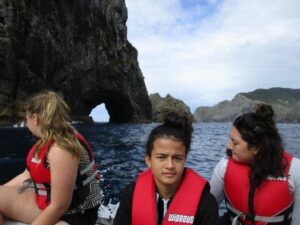 Cathedral Cave where it's said a taniwha once lived.
It's only noon but we are about to be out of reception to send you any more blogs. So if you don't hear from us, don't worry! We are enjoying the peace away from cell towers. We are heading to Whangamumu for the night to anchor and may stay a few days.
You'll hear all about our adventures as soon as we get reception again.
Home you are all having as much fun back home as we are – but I doubt it!