Awoke this morning to another beautiful day, this time in Whangaruru. The boys were really keen on their swim and in the water before 7am. A few did bombs off the boat before morning chores. We headed off to the hole in the rock, Motukokako, and on arrival went through in wild water in the inflatable. We had the wind in our sails and made good headway to our next port of call the Island of Waewaetorea.
After lunch our next adventure was to land on the beach then ride the swell through the taniwha cave in darkness and back through to the light on the other side, was so good to see everyone meet this challenge head on, well done guys. Those of us with dive gear gathered a few kina then got picked up in the inflatable whilst Ducati, the hardiest diver, with no wet suit, swam on to look for more kaimoana.
After a cake break we headed over to Urapukapuka Island and had an amazing walk for over 2 hours exploring the pa sites and checking out the views as well as getting some amazing photos. Fittest and keenest of the group was Manawarangi who ran between the groups, not bad for a four year old, well done kotiro, rawe!
Another exciting ride on the inflatable back to the boat and as we arrived we noticed three dolphins swimming around h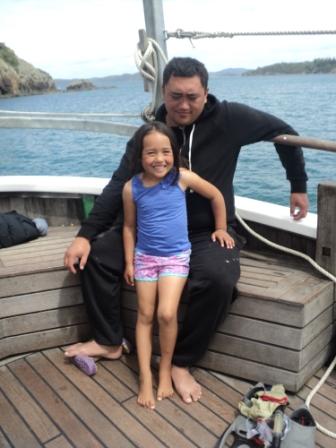 er. Joe Brown, Sam, Albert, Janna and Geri jumped in with masks on and had the most amazing swim with them, they were extremely interactive and gave us quite a display, singing as they swam around us. How lucky are we? What an incredible experience.
Another tasty dinner of sausages, potato and kumara mash and champion salad was really welcome after all that exercise and now with dishes getting done Im listening to some real styley ukulele playing and singing. There is some real musical talent in these guys!