Today after breakfast and swim, we picked Mitch (who has kindly hopped on board to replace Alex who has a dental appointment) up from Long Beach. Taniela and Nate went as part of the taxi service in the rescue boat and she was greeted with smiles.
Then while we motored to Urupukapuka, some more trainees completed the challenge of climbing out on the yards way up high on the mast (Krisharn, Aaliyah, Taniela,) while others took turns steering the ship (Temepara, Tumanako, and Issac).
Then we went for the big circuit walk on Urupukapuka and had our picnic lunch on the top of the hill with amazing views. Back on the ship we moved around the corner where some people went diving again and others sang to the sound of guitar.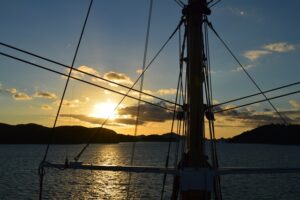 Now we are all tucked up warm at Homestead Bay having watched a stunning sunset which Cameron our photographer captured. Now dinner smells great and we are all hungry after a fun filled day!