What a productive first day! Off we motored towards Moturua Island, where, along the way, we played the name game to introduce ourselves and get to know each other a bit better. Not a hard game as we have Hinetu, Yarna, Kate, Tasmin, Sheynae, Maraea and Caleb all from Kaitaia. With everyone introduced, we did a MOB and abandon ship drill so everyone is aware of what to do in an emergency situation. With that all done, we tucked into lunch and anchored up in Homestead Bay.
Once the anchor was set, we divided into Port and Starboard watches and lowered the dinghy. Once ashore, we set off on the loop track and right on the edge of the beach we saw some Kiwi tracks!
Sarah, Hinetu and Iona took the slow, easy pace and appreciated the views and walk. It paid off as we heard and saw one of the recently released Saddleback/Tieke!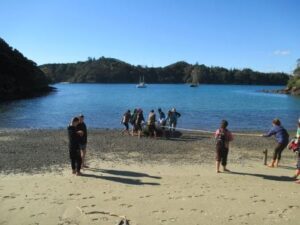 We are now anchored in Paradise Bay, orientation of the ship has been completed and already Matt, Yarna, Kate, Caleb, Maraea, Angus and Iona have touched the end of the lower tops'l yard arm and earned their turk's head bracelet!