Hello Family and Friends!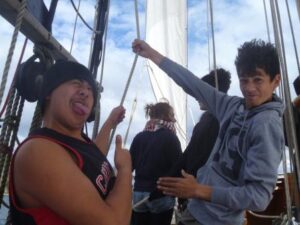 Spring is here, and how lovely and warm this afternoon has been… but let's start at the beginning of the day.
Everyone made it through the first night sleeping on a ship okay. This morning was a meet with a splash as the new trainees were introduced to daily morning swim (and shower), followed by cleaning duties and breakfast. The morning ocean was like glass, not a breath of wind. So after breakfast we practiced a "man over board" drill with Wilson (our soccer ball) who I'm glad to say was recovered. Then the trainees learned which lines (ropes) did what, what the names of each were and how to use them. All this was done while we made our way under motor towards Deepwater Cove.
Deepwater Cove is protected by a Rahui (so no fishing except kina). It is nice place to snorkel so that's what we did! Everyone except Bo, Manuao and Nate who went rowing instead in our little row boat named "Lil Tuc". A full sack of kina was gathered, led by Leon as chief gatherer.
By the time everyone was back and dressed again, the wind had picked up. Four sails were set and the motor turned off once we left the bay. Lunch was served on deck and everyone ate. Of course with a bit of sea motion it didn't take long for some trainees to start feeling a bit seasick. Jennie felt the worst but even she held it together for the whole sail back. Some felt fine, like Keani, who sang a lovely guitar song for us as we went.
There was still time to explore Motu Arohia (Roberton Island) when we anchored there having arrived by sail. So ashore everyone went to explore and relax. The island has a lot of history and is most famous for the three lagoons it has. Only Daniel and Rosalee were energetic enough to climb the hill but were rewarded by a great view. We couldn't stay anchored at Motu Arohia overnight though so now we are back anchored in Pipi Bay, waiting eagerly for dinner. It will be spaghetti and homemade meat balls tonight. Yum.