This morning we woke to a fair and only slightly over cast morning in Whangamumu Harbour. The morning swim was brisk and chilly but met smiles by all. We all new today the weather would decide whether or not we could carry on down the coast towards Whangarei Harbour. Lucky for us things were looking good. After cleaning the ship above and below and having another hearty breakfast everyone got ready to sail the ship. Bunks were stowed, pots and pans secured, so that nothing would move when we got outside the harbour. Tim, David and Joshua climbed aloft and loosed the topsails. Others got ready the anchor and took in the laundry.
Then we set sail!! Up with the mainsail, up with the foresail, the headsails, the topsails and the course sail! Thirteen sails driving us forward at 5 knots. The swell was still quite large but all the trainees did much better handling it. Everyone ate lunch and nobody had to give it up to Neptune.
We finally arrived in Tutukaka Harbour just after 1600hrs (4pm). Those who were feeling a little stirred to drop the sails. After the work was done we had hot chocolates and afternoon tea. Then some tried fishing but only attracted seagulls with the bait.
Now we prepare for our last night together on the ship. There is still about 20nm to travel tomorrow. We are ready. Now though, we look forward to dinner and each other's company.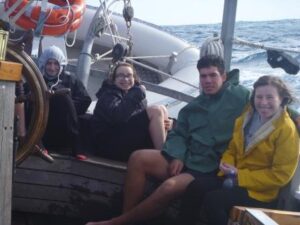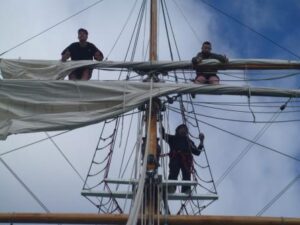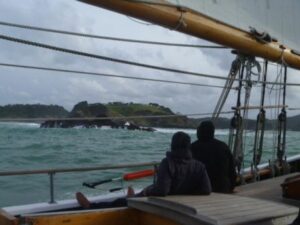 Goodnight! See you parents, friends and family tomorrow afternoon!