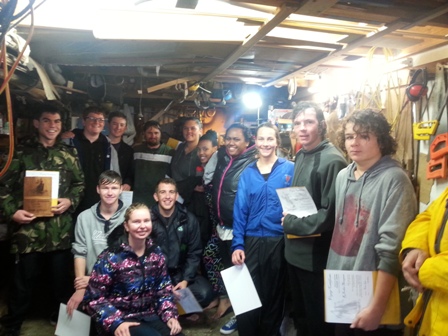 After years of competition, Daniel Crene and Cole Rumsey from Kaitaia College did the Far North District and Top Energy proud with an emphatic win for this year's Tai Tokerau Tall Ship Challenge. Hamish Harris and Vincent Johns from Taipa Area School came in 2nd place, and Te Awhini Palmer and Fabian Kinita from Whangarei Girls High School came a respectable 3rd. With one of the Whangarei Girls students actually hailing from Kerikeri, the Far North definitely stole the honours this year.
The week of the challenge saw a massive storm destroy roads and power lines in the Northland region, however the crew kept our sail trainees safe during the adverse weather event, bringing them back safe home to their parents on Thursday afternoon. Unfortunately with the massive storm that wrecked havoc on all the power lines throughout the region, both the sponsoring Lines Companies had their hands full and were unable to do the honours on the day. In fact with the torrential rain, there were brief farewells in the Tucker's workshop, which had been cleared out for the occasion. A presentation will be held at the school at an appropriate time. The trophy instead was presented by Trustee and builder of the R. Tucker Thompson, Russell Harris.
Daniel Crene and Cole Rumsey started off on the lead having produced the best entry on Safety at Sea with their video on the subject matter. Plenty of humour mixed some appropriate advice on what not to do! They retained the lead throughout the voyage, clearly the best contestants.

The two boys