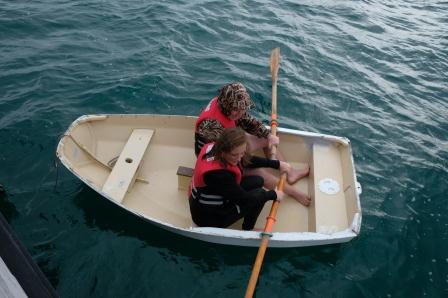 Today we had a super action packed day. We woke up at 6:15am, raised anchor and set sail.
With a hot choccy in hand, we watched the sun rise, accompanied by a lone dolphin looking for some friends.
After completing our morning chores while underway, we had a yummy fry up breakfast and made anchor at the beautiful Paradise bay.
After learning about Project Island Song, we headed ashore to go for a bush walk around Urupukapuka Island with packed lunches.
Emma, Alex and Ben all achieved their goals of swimming underneath the boat and we were all amazed at the courage of Ben and Maea after they achieved their Tucker challenge on the lower topsail yard.
Another Tucker challenge was completed by everyone, rowing lil Tuck around the ship with their buddies. Winners were team Waka Ama (Etham and Alex), well done!
Now we are singing songs in the saloon while we wait for our delicious roast dinner, another awesome day in the bay.