With no wind what so ever to be felt out there today, the good ship settled into a morning of more rowing, knot tying, sail and line handling at the peaceful anchorage of Otupoho Bay.
Taking advantage of the gorgeous weather, Te Tikarangi, Mikayla, Luka and Monty had a brief intro to launching and retrieving Little Tuc while Isaac, Ethan, Allan, Anton, Ben and Lachlan were introduced to knot tying.
After a small break, each team was introduced to chart work and navigation, plotting our way to Urupukapuka Bay where we had the channel markers, isolated danger marks and lots of fishing boats and crayfish pots to navigate through!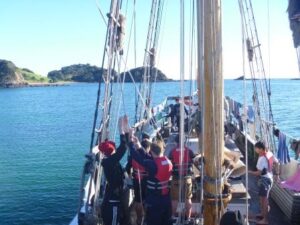 After a hearty but late lunch of delicious pumpkin soup, we were all put ashore to walk it off and gave a brief rundown of Project Island Song and what it means to the Bay. Along the beach and throughout the walk we spotted Oyster Catchers and NZ Dotterels, but then everybody got distracted by the tree full of Pied Shags :/
Back on board after an hour or so, we zipped across the way to Whale Bay for a spot of fishing and where we will be anchoring for the night, eagerly awaiting a piping hot dinner.