Hello Family and Friends!
I am writing to say we are all well on board. There will be no reception to send this at our destination later today. We are currently under sail, using the Mainsail, Foresail and both Headsails, averaging 4 knots, on the way the shelter of Motu Rua on the Eastern side of the Bay of Islands.
Our day starting with a morning swim! A beautiful sunrise and not too cold, all got in. Then to daily duties of cleaning of the ship; decks scrubbed, head (toilet) cleaned, brass polished, etc. After breakfast a class lesson followed by a hands on lesson learning how to handle lines (ropes) safely and their names.
Then it was up with the anchor and set the sails! On passage we've seen a shark and a penguin. We've eaten some yummy banana cake for morning tea. Right now Maea is at the wheel and Ben, Emma, Trent, Alex, and Bailey are out on the bow sprit enjoying the sea air! Monnie has just finished Steering and Ethan also was on before. Chontelle, Bella, and Dakota are keeping a look out.
We plan to go ashore on Motu Rua this afternoon. Everyone on board is bonding well. Enjoying the sunshine this lovely Monday afternoon!
Standing By,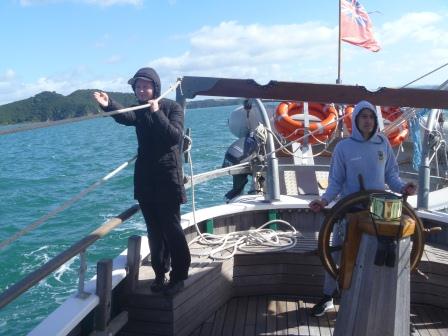 Capt. Ari