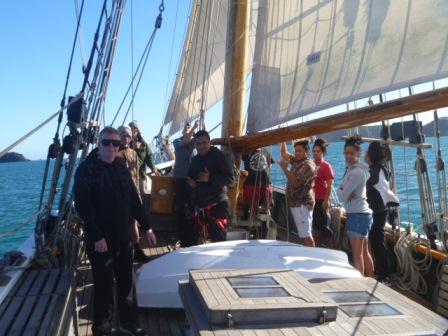 Hello Family and Friends,
Our fifth day out and finally we see the sun again! We set sail after the normal morning routine. The trainees are becoming well skilled at hauling the anchored, checking the engine, and raising the sails. By the time we rounded Okahu Island, set for 3 nautical miles out to sea, everyone had seven of the eight sails on board; Mainsail, Foresail, Headsails, and all three square sails. With the wind behind us we raced across the still gently rolling seas at 7 knots. On the way we had our daily "quiet time" 20 minutes of reflection and quiet. At 3 miles from any land we could finally throw the food scraps, that have built up over the last five days, over board! Then turning back to land in the stiff breeze we returned into the Bay Albert Channel. Maya and Tyla stowed the topsails way up high and Tipu and Ben stowed the headsails out in the bow net.
Anchored in Homestead Bay on Motu Rua, we had homemade pizzas for lunch. Then all went ashore to hike the island circuit and visited all four beaches on the island. Te Aorewa, Jamie and Samuel ran ahead and hid along the track to frighten the slower walkers. We took any rubbish we found on the beach with us and took it off the islands. We arrived back on the ship just before sunset, the air a bit cold now with the southerly breeze. Before dinner Maya took the helm to navigate the ship through the night to out anchorage here just off Kahuwhera Point. Ben was requested by name by crew to help with anchoring as he does such a great job.
Now, Tyla, Samuel, Jamie, and Cailee are finishing the dinner dishes. The nights activity will be for the trainees to come up with a poem or sea shanty about their voyage so far.