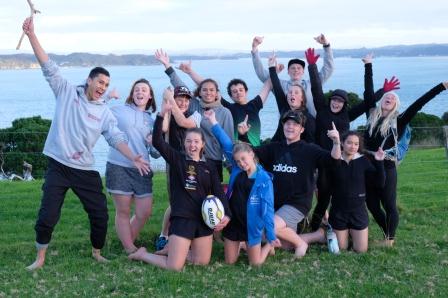 We began the day to the sun shining and the trainees once again eager to enter the deep blue known as our backyard for the week.
After a hot shower, morning duties and an amazing breakfast the morning was spent teaching the trainees all we know about navigation, here they were able to plot and plan the sailing course for the day. We also talked about and did an Abandon Ship Drill lead by the captain. It took 8 mins to get everyone to safety. Not bad.
Once this was achieved we thought the trainees deserved something special for lunch so it was decided they were able to create and design their own pizzas.
Lunch was devoured and we set a course to Moturoa Island which is a perfect place to set anchor for the night. As we set sail the trainees were in charge of the ship and the goal for the day was to get us to our final destination without guidance by the crew which was very successful. We also had a chance on the journey to have a quick lesson in knots, which between tacking and wearing the trainees found remarkably easy.
After anchoring in what we call "Bucket of Kai Bay" on Moturoa Island we made way for the beach where we began a beach clean-up. From there we enjoyed a nice hike up the hill, and then headed back towards the ship.
The trainees are now swimming and mingling while we wait for tonight's dinner of Boil Up and Dough Boys to be served. We plan on finishing up the day with 30 minutes of silence, and a wonderful pudding of apple crumble!! Lucky us!!
Goodnight!!