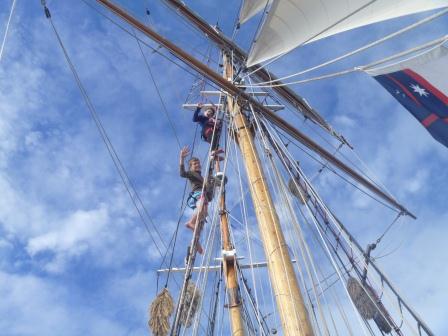 The sky was a crimson red as we awoke at 0700 hours for our first morning swim. Samuel was first in off the rope swing. Chores were eagerly completed by everyone with Ben and Te Aorewa ensuring the brass was immaculate! After breakfast was devoured and the dishes put away, we gathered in the saloon for a lesson on the weather. A lesson on line handling was next where the trainees picked up on the various nautical terms fairly quickly.
With NE winds of 15 knots, we set the Mainsail, Foresail and the Headsails to make our way towards Waewaetorea for a swim and some lunch. Taking the helm was Luke doing a great job; Tipuarangi and Cailee also having a go. After lunch dishes were complete we made our way to shore to explore the Island and enjoy the stunning views over the Bay. Ben, Jamie and Te Aowera swam all the way instead of taking the boat. Well done. Some games were played and chocolate fish was won before we made our way back to the ship. Back on the ship, we upped anchor to make our way around the corner into Paradise Bay where we will spend the night. Teleah made our call on the VHF to Russell Radio letting them know our position. A few are feeling a bit homesick after the first night, but are being looked after by friends on the ship.
The sweet smell of corned beef is currently wafting throughout the ship as the trainees are playing games and enjoying their new friends company….. now the fish are beginning to bite too! Two snapper and a lemon shark have been caught to this minute so far. A great way to end a great day!