Bay of Islands Discovery Voyage
Discover the Bay, discover yourself
Teamwork mahi tahi
You can't sail a tall ship by yourself
A voyage for grown-ups
Normally the preserve of kids, now adults can come on board
Mangahawea
Mangahawea Bay is the site of one of the first known Polynesian arrivals
Challenge
Do you dare – don't worry it's optional
Listen to the birdsong
Project Island Song have reintroduced Tieke Saddleback on Moturua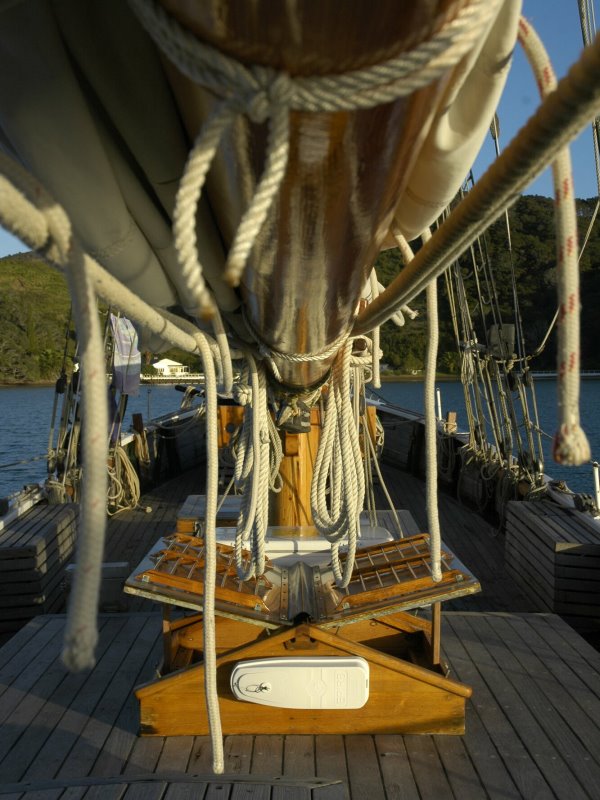 A trip that has something to offer an 85 year old and a 10 year old is something very special indeed. We now have a deeper understanding of Maori culture, the Northland, the sea and the importance of coming together as one. 
It was a wonderful trip
Discover the Bay, discover yourself
Normally the preserve of teenagers, now's your chance to come sailing on this beautiful tall ship and experience the Bay of Islands. For three days and two nights, you'll get to explore the amazing history and stunning scenery of this beautiful part of Aotearoa New Zealand.
The Bay of Islands is not only a place of stunning scenery, but rich in stories. It is a place of first arrivals from Polynesia and significant Māori settlement, home to early encounters with European explorers, a place of trade and industry, colonisation and subsequent wars. This turbulent past is barely visible today. Nowadays the focus is on recovery and restoration, with landscapes being restored and native birds returned to the islands. What better way to discover this beautiful place and explore the Bays than on board Taitokerau Northland's own tall ship, the traditional gaff rigged schooner R. Tucker Thompson.
Staff leadership training
We've been building confidence, developing leadership and fostering teamwork with kids for over 15 years. Let us do the same for your people.
Our proven programmes with youth are equally applicable for adults. For middle managers or members of a leadership team, this experience will teach them about working with others, challenge their thinking, and test their ability to deal with the unexpected. It's leadership in action and provides both personal and professional development in a unique and spectacular setting. Most importantly the voyage brings people together to work for a common goal in a way which is hands on and practical. 
This is not a Princes Cruise! This is an opportunity to learn about your leadership style and put it in to practise in an interactive and learning environment.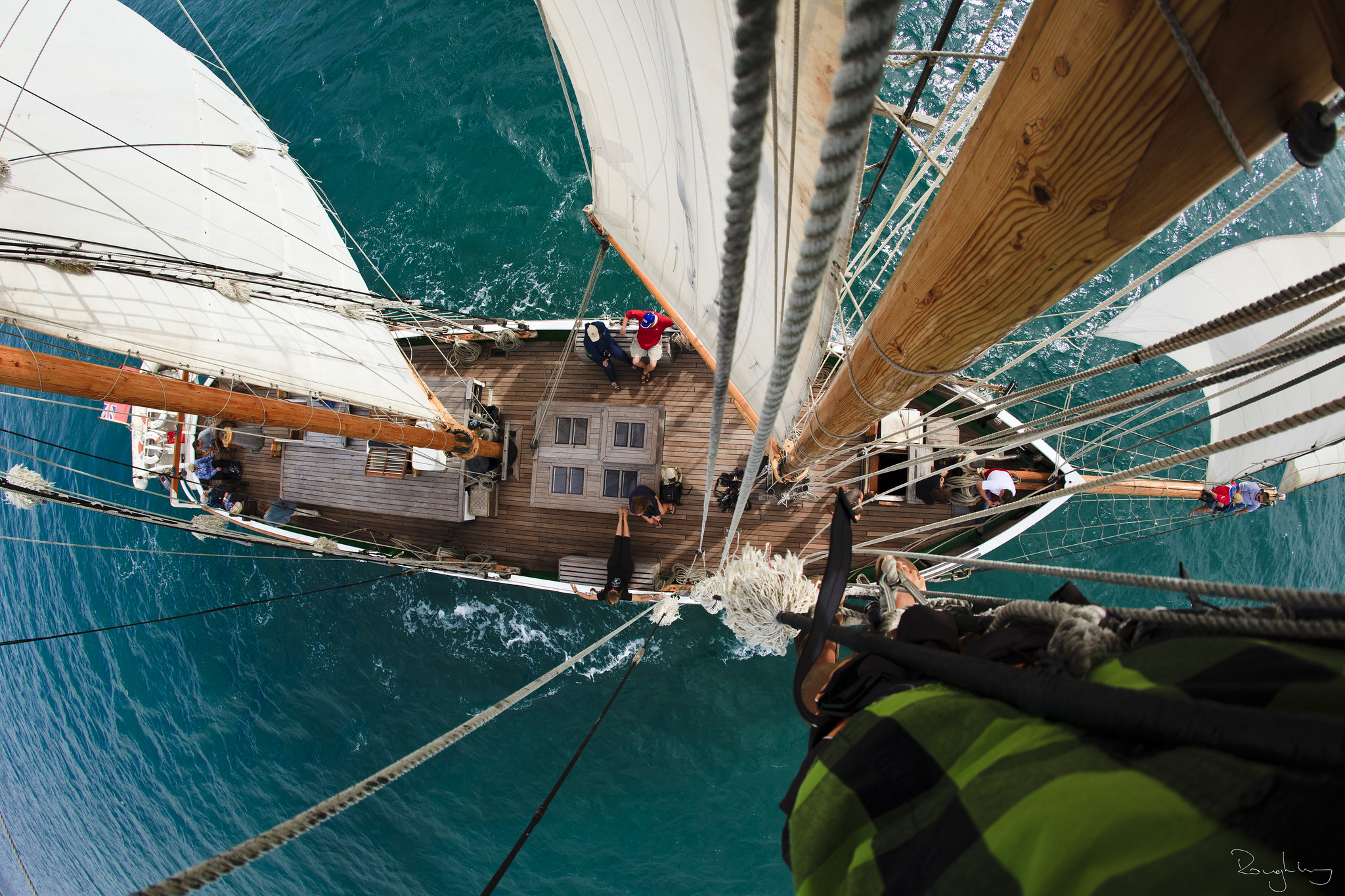 What it costs
Price: $995 per person, includes bunk style accommodation and three meals per day on board the R. Tucker Thompson.
Three departures are available in November, December and March.
We can take a maximum of 10 people on any voyage. 
Scheduled voyages are available on these dates:
| | |
| --- | --- |
| Dates | Status |
| 17 – 19 November 2020 | Places available |
| 1-3 December 2020 | Fully booked |
| 15 – 17 December 2020 | Places available |
| 16 – 18 March 2021 | Places available |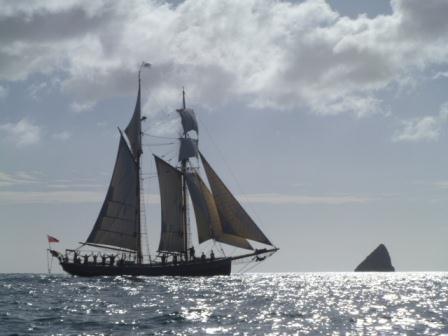 How fit do I need to be?
You don't need to be super fit to enjoy yourself but a reasonable degree of mobility is required to get below decks and in and out of the tender. The walks on the islands would be classified as low to medium grade difficulty, generally no more than a couple of hours. Our goal is to make the ship accessible, and we have taken people with minimal vision, limited hearing and physical disabilities before. Ask us if you have any concerns.
What is the accommodation like?
This is not a cruise, it's a tall ship experience. You'll be sleeping in bunk beds in a shared space, which are more comfortable than hammocks.but definitely more on the glamping scale. If you've slept in a marae, you'll know what that's like! We do recommend that you bring ear plugs in case other passengers snore.
What about showering?
We have a fully enclosed Head (toilet) complete with a hot water shower, however this is a shared facility so treat the experience as if you were camping. You won't be showering each morning although we have a fresh water shower on deck for you to rinse off and warm up.
What will be doing on the voyage?
Your Discovery Voyage will be based on our successful Youth Development Voyage format although morning swims will be subject to agreement from the group. We'll be keeping the sailing, navigation, history and environmental modules from our programme which will form the basis of your voyage.
What about special dietary requirements?
Meals are simple as they are being prepared in the galley and of course as one of the team, you'll be helping too. We can cope with vegetarian meals and can work around gluten free, but if you have special dietary requirements, we do recommend you bring your own items e.g. bread and cereals.
What if the weather is terrible?
Our primary concern is your enjoyment. If the forecast looks like it will be pouring rain for all three days, we will cancel. If however there are showers forecast and some good winds, then that is great sailing weather. It's a judgement call we are used to making, we will discuss it with you but be assured we will want to make sure your experience is the best.
How do I book?
Fill in the registration of interest form below
We will confirm whether there are places available and and answer any of your questions
You pay a 50% deposit to secure your place and we send you a welcome on board pack
One week before the voyage you pay the balance