Special sailings and events
We love special events, particularly for members of the community. These may be themed sailings such as our popular Kiddies Pirate Sail, special day sailings where we have guests on board or sometimes it's just about putting on a sailing for members of the community. Check out this page to see if we have any special sailings planned.
A light-hearted 2-hour sailing on board the R. Tucker Thompson!
Youngsters (and their adults) get to dress up as pirates and enjoy a special pirate sailing on board Northland's own tall ship on a short 2-hour sail from Russell. Let your inner pirate go wild and get creative for this fun-filled sailing. It's a chance to "argh!" and "shiver me timbers" while the children can have some fun and play at pirates.
All passengers should be appropriately attired – adult pirates included. Failure to wear appropriate dress could lead in being asked to walk the plank!
This sailing is a fundraiser and the proceeds from all tickets will go towards funding a place for a young person from the region on a winter youth development voyage. Tickets are $30 per pirate regardless of age plus $1.47 credit card fee. If you want to find more about how to support or make a donation, please click here.
Go on, indulge your inner pirate!
Want a Kiddies Pirate Sail for a birthday or family event? Just get in touch!
Saturday 30 January 2021 4:00 – 6:00
From Russell Wharf
Price $31.47

Salty Dogs on the good ship
Join the newly formed singing group the Salty Dogs on their inaugural performance on board the R. Tucker Thompson. Regulars Larry and June Jacobsen are joined by songstress Maria Turner, and they promise to turn our Friday Sundowner Sail into a fun occasion.
Our Sundowner sail departs from Russell Wharf at 4.00 pm for a sail in the inner harbour. We serve a shared antipasto platter and you can purchase drinks from our cash bar. The more adventurous can don a harness and climb out on the bowsprit or even go up the rigging. Otherwise we invite you to sit back, relax and enjoy the music before we return just before 6.00 pm.
Friday 22nd January – 4.00 pm – 5:45 pm
From Russell Wharf

Bay of Islands Discovery Voyages
Do something new! Normally the preserve of teenagers, we are running four special Bay of Islands Discovery sailings for the grown ups! For three days and two nights, you'll get to explore the amazing history and stunning scenery of this beautiful part of Aotearoa New Zealand.

What a brilliant day! The crew were so friendly and informative and happy to chat. The boat readily swallowed up a crowd of us with plenty places to sit, stand or climb the rigging or bow sprit!.
Lunch was delicious!
Julia M – Trip Advisor 2020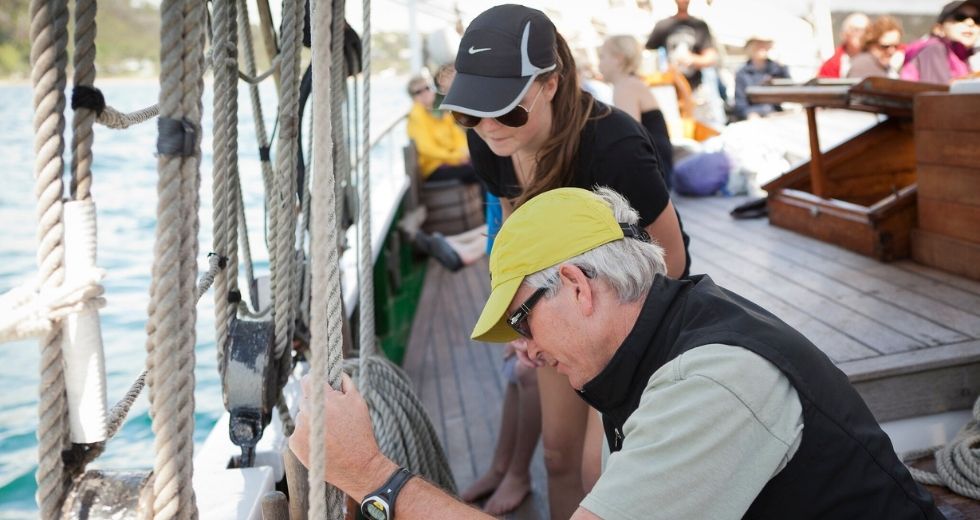 As a charity, we are keen to support community groups by offering special sailings for those who volunteer and work in the community. Starting at just $69 for a 4.5 hour sailing, let us take you for a sail and provide a memorable occasion for your group. We can tailor a variety of options to suit your requirements, to provide an affordable tall ship experience in the Bay of Islands. Minimum of 20 passengers and a maximum of 47, sailings will be subject to availability.