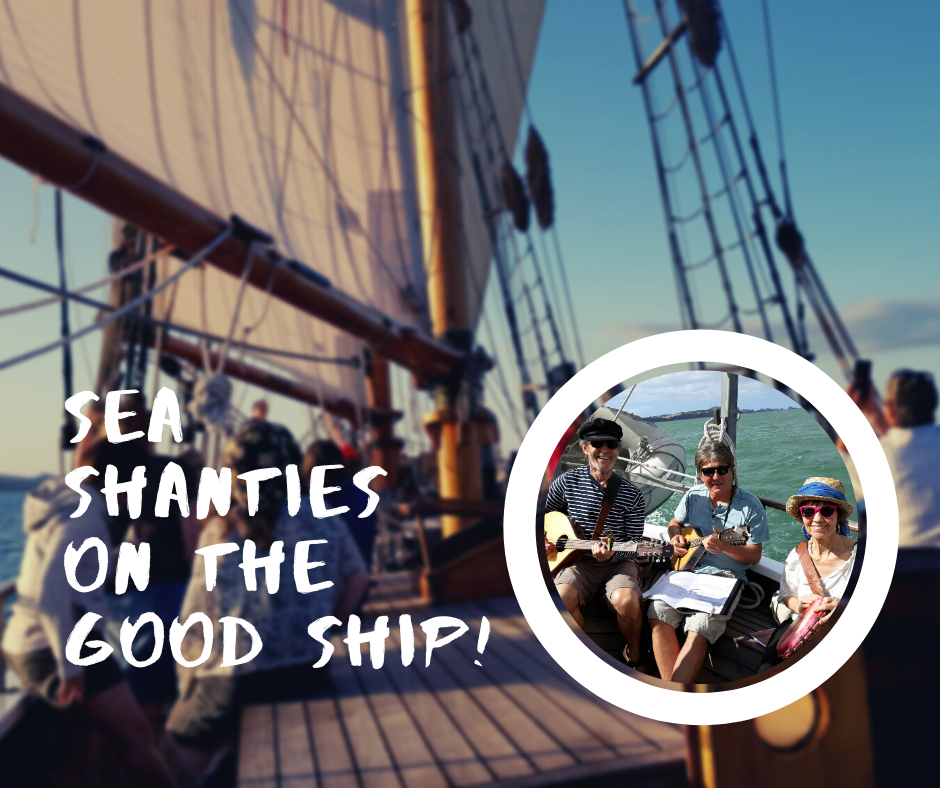 Love traditional sea-faring songs? Every Friday during January and February (excluding 25 Jan) we have the Old Salts our Sundowner sailing. Now is your chance to really step back in time on board Tai Tokerau's own authentically rigged tall ship and help raise the sails to the rhythm of an old-time working song. If you're after a more laid-back experience, just enjoy the music, while sipping on a Cottle Hill wine from the cash bar, accompanied by nibbles from a complementary antipasto platter.
Local band The Old Salts have been busy learning music which is special and relevant to the Bay of Islands – traditional seafaring songs sung along to acoustic (unamplified) instruments. They are – Larry and June Jacobson on Irish bouzouki and percussion together with Chris Lyle on mandolin.
The sailing is between 4.00 – 6.00 pm just book online for our Sundowner sailing. 
This race is generally held on the first Saturday of January each year; we will update this page when we know the dates. Otherwise get in touch if you wish to make an early reservation. 
About the sail
A light-hearted 2-hour sailing on board the R. Tucker Thompson!
Saturday 25 January 2020 from Russell Wharf
Youngsters (and their adults) get to dress up as pirates and enjoy a special pirate sailing on board Northland's own tall ship on a 2-hour sail in the Inner Bay of Islands. Let your inner pirate go wild and get creative for this fun-filled sailing. It's a chance to "argh!" and "shiver me timbers" while the children can have some fun and play at pirates.
All passengers should be appropriately attired – adult pirates included. Failure to wear appropriate dress could lead in being asked to walk the plank!
This sailing is a fundraiser and the proceeds from all tickets will go towards funding a place for a young person from the region on a winter youth development voyage. If you want to find more about how to support or make a donation, please click here.
Go on, indulge your inner pirate!
Booking information
How to book
Price: $30.00 per pirate regardless of age (maximum of 1 adult pirate per pirate child – this is for the kids!)
Pay online with credit card using Paypal with the Buy Now button 
SOLD OUT!
Sorry January Pirate Sailings are now sold out! We do get cancellations from time to time, so if you would like to be wait-listed please email us
Otherwise you are more than welcome to dress up as a pirate and come on a scheduled sailing – we'd be happy to see you!
Booking information
NB: Adult pirates must be appropriately attired