Kia ora whanau from the good ship to thy land lubbers…. Today started with no morning swim much to everybody's disappointment due to prevailing weather conditions, so was straight into chores breakfast and dishes. Once completed we then weighed anchor making haste to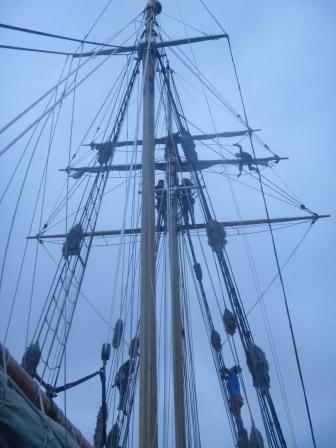 reach our rendezvous point to collect our last crew member off the Russel wharf, before rounding Tapeka point bound for Paradise bay, as we approached closer Paradise proved to be not as sheltered as first predicted so we set a new course to our present anchorage in the sheltered Opunga cove….
Upon arrival lunch was served warming the bellies of soggy sailors, once hunger was satisfied and dishes packed away trainees finally got to swim with Karlos and Jared taking the plunge first with Kateao, Nicki and Amorangi following shortly after swimming didn't last long though apparently it was cold!!!!!!!
Now dry and warm we mustered in the saloon for lessons on finance, knot tying, safety at sea and rules of the road while waiting for the pear loaf too cook….. while the trainees waited, Kateao lead the charge to the end of the lower yard followed by Logan, Nicki, Cameron, Jared and Karlos well done guys. You have earned your Tucker Challenge anklet!!!
The ship is warm and full of laughter as we await dinner… Pomarie whanau