Kia Ora,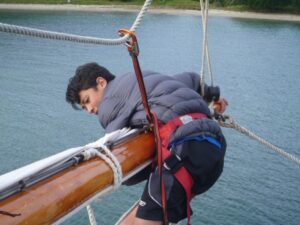 Today was our departure for seven days full of adventures! We left the dock of Opua under our forsail, course on to North, direction to the Islands, the first one where we will land is Moturua!
After an helpful and funny name game, we enjoy a macaroni cheese for lunch at sea, then it was time to unpack bags and to discover the Ship in depth. Divided in two teams for the week "Starboard" with Daniel, Alicia, Te Ao Kohatu, Rosalee, Jennie; and "Port " with Bo, Keani, Edith, Paris, Manuao and Leon ; They will execute their various different duties to keep our floating home 'R.Tucker Thompson' in perfect condition. Our daily routines, Life Together Rules were explained either down below or up on deck, and the safety procedures were explored (evacuation, Man over Board, fire …)
And slowly with a sunny weather, we anchored front of Moturua, for a walk around the island.
We could hear the reintroduced birds : Saddleback and Tui ) all the way (Thanks to the Project Islandsong) and some kiwi tracks were found again (maybe there were two?!) chatting and meeting each others, we headed back the ship for a swim session, including the Tucker Thompson swing !!! Bravo because the water was 14.,7 degrees but our trainees went into the water with no second thought: Keani, Edith, Rosalee, Paris and Alicia, Daniel, Leon and Manuao.
Bravo to our first Yard challenger Te Ao Kohatu! Tim was explaining how the Tucker challenge works, when he says "I will do it now". So putting on an harness, off he went!
We moved the ship over Pipi Bay, definitely a better spot for the night, Alicia and Keani did the VHF to Russell Radio to call in for the night, and now the smell of dinner is here. Corned beef is now getting sliced up and plates are coming into the galley.
Time for dinner and a bit of rest after our awesome day.
Bonne nuit – Pomarie – Good night