Kia Ora Whanau,
The weather was stunning as we cast off of Opua wharf at 1200 hours with 11 fresh trainees to start the winter youth season. With the foresail raised, we made our way down the channel towards Moturua Island. Along the way we broke the ice with a name game to acquaint ourselves with one another. After familiarising ourselves with each other, it was time to get to know the ship. We split the trainees into 2 teams where we explored the ins and outs of the vessel. We arrived at Moturua Island where we anchored at Mangahawea Bay to enjoy a nice hot soup lunch.
With rain clouds in the distance we thought we'd make the most of the sunshine and explore the Island. This was a great opportunity to talk about the importance of Project Island Song as we made our way around the loop track. The steep hills were a struggle for some but Toby and Mataora made it look easy as they raced ahead.
The rain started to set in just as we made our way back to the ship. Lena Huia, Karamia, Mataora and Jay enjoyed a refreshing swim before we upped anchor and made our way into Omakiwi Cove where we will be spending the night.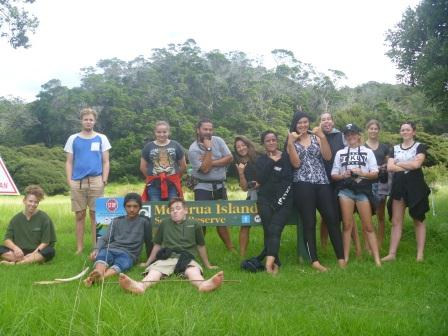 Goodnight!