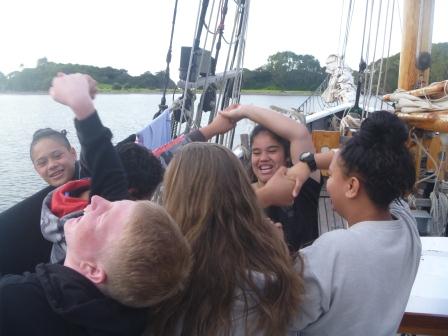 Good evening friends and family!
Our first day on the ship has nearly finished. The Trainees have learned a lot in the first few hours on board. After leaving Opua Wharf, four sails were set under the guidance of the crew. Then it was all learning about the ship and each other and safety. After lunch the sails were lowered and stowed by everyone. Then it was harness training a bit of a taste to climbing the rigging. That done, it was time for a break and a swim! Diving from great heights off the rat boads, Maya was the first, quickly followed by all the boys. The rope swing was used also.
After the swim, all refreshed, the Trainees decided on their Voyage Treaty lead by the captain. Then a lesson of Money and the cost of voyaging. A few games later and 20 minutes of silence on the ship it was time for dinner. Cooked by Dennis and enjoyed by all. Now dishes are being done by our willing volunteers, Maya, Chantelle, and Tyla. Despite some slightly nervous face to begin with, everyone seems to be settling in fine. Ben, Te Aorewa, Teleah and Jamie playing cards together with some crew before dinner. Loud laughter can be heard. We are anchored off Motu Arohia (Roberton Island).
Tonight will be the first night on board as a crew. The sky is clear and the moon nearly full.
Much adventure to come over the next week!