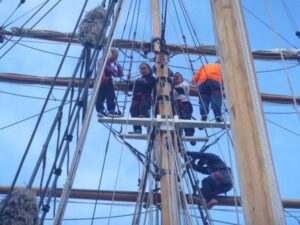 Kia ora whanau from thy good ship!
After we left the wharf we played the name game, general rules and orientation of the ship to familiarise our enthusiastic trainees with their new home and expectations for the week. Once settled in, lunch was served with all crew eating all of Pania's Mac & Cheese. While dishes where being completed, Terry and Darryl helped Wayne lay the anchor in Waiti bay where we will reside for the night.
After parking the ship and the completion of dishes we boarded the dinghy to stretch our legs around Moturua with Natasha, Darryl, Terry, Cody, Hamish, Teqwin and Kassidy taking a dip after the hike. Corned beef for dinner trainees are bonding well ship is vibrant with laughter.
Ma te wa whanau….