Te ra tua rima
Day 5
We awoke to another stunning day today whanau, the sun was shining and the birds were chirping as the kids were flying into the tide for a refreshing morning swim.
Once the swim and morning chores were done the crew and trainees all enjoyed a delicious breakfast of scrambled eggs and spaghetti. Afterwards we all left the ship to go on to the beach were a game of league was sparked up by Nate and Wayne, some of the kids jumped in and two teams were made. Nate, Latham, Terry and Darryl vs Wayne, Cody, Tequin and Athol – it was an epic battle of Titans that ended in a win for team Nate. Meanwhile Tiaho, Hamish, Natasha, and Cassidy went for a walk up the beach with Pania and Tim while Levi and Aron took the opportunity to chill out on the beach. As the beach walkers were heading back towards the main group we were surprised to see two motor gliders touch down and take off from the beach.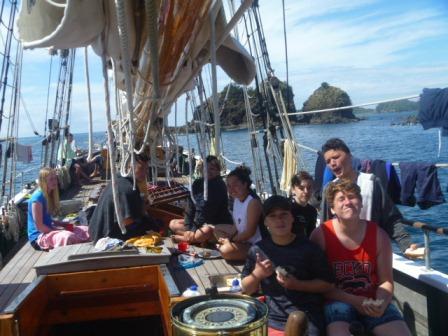 Once we were all together again the boys all took up arms (harakeke sticks) and a few light spars were held before we got into the dinghy and west back to the ship. But we weren't there for long, we weighed anchor and zipped around the corner to an awesome dive site, all the kids got into the water to gather their favourite kai moana, kinas,Terry racking up the most in the dive, while Nate and Wayne went further out to try their luck, all went well until a SEAL!! It came up out of nowhere showing us all how it's done, all were quick to get out once the king (seal) made his presence known.
We then all sat down to some yummy sandwiches and cake for lunch. Once that was devoured we weighed anchor and headed back around the corner to Mimiwhangata beach were we are now anchored up for the night. A scrumptious boil up has just been demolished and everyone is looking drowsy and ready for bed now, no reira, po marie whanau
Good night