Under the moonlight anchored for our third night on the sea. Laughter is loud coming from the saloon where everyone sits playing a game of cards and waiting for dinner to cook.
The day started under grey, drizzly sky but that didn't stop our morning swim! Breakfast and chores done the rig was opened for a mast climb. Many trainees achieved one of their personal goals today by touching the far tip of the yard arm way up above deck. This achievement is rewarded by getting a sailors bracelet (sometimes worn on the ankle).
After lunch we set sail! This time the youth were asked to set the main sail and foresail without instruction. Which they almost achieved forgetting only a few tasks. Not bad for day three! There was time while sailing for Phoenix and Nenah to get their sailor bracelets made and some guitar practice before stopping to fish off Motu Rua island. Michael and Pania caught the most fish but only one was large enough to keep. As we drifted closer to land, the skipper started the engine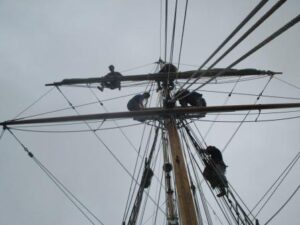 and we motored to our night anchorage in Homestead Bay.
The sun had finally come out for the late afternoon and while some swam and dived for kina, others went ashore to explore. As darkness drew in, everyone returned to the ship and had hot milos to warm up. Time for dinner now, and who knows what tomorrow will bring!