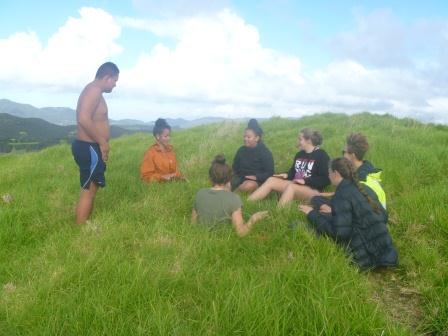 We awoke at 0700 hrs to grey skies with a bit of swell.
The day got under way with a refreshing morning swim followed by a hot shower, then it was taking care of "house keeping" with the rostered trainees scrubbing the ship above and below decks with Chantelle setting a great example leaving the head sparkling after she scrubbed everything from the ceiling to floor. A hearty fry up of last night's meal, srcambled eggs, toast and cereal was had for breakfast before we filled the trainees heads with some lessons on recycling and fishing regulations.
Ben has mastered the art of weighing anchor while the other trainees hoisted the sails to make our way from Paradise Bay bound for Orokawa Bay.  Shortly after making way a cry was heard "SHORTS OVERBOARD!" This made for a great excuse to have a man overboard drill. Cailee did a great job as lookout while the other trainees efficiently got the sails down to make our way upwind to gather back the life ring and hopefully the shorts too. With the life ring and shorts making their way towards the rocks we deployed the tender to rescue them. Once recovered we set the lower top sail and made our way into Orokawa Bay where we enjoyed a nice curry and rice with cheesy scones.
The afternoon was filled with swimming, fishing, climbing and games along with some knot tying lessons, navigation and learning the phonetic alphabet. Captain Sarianna made a scrumptious meal of marinated chicken with couscous salad to warm our bellies for the night.