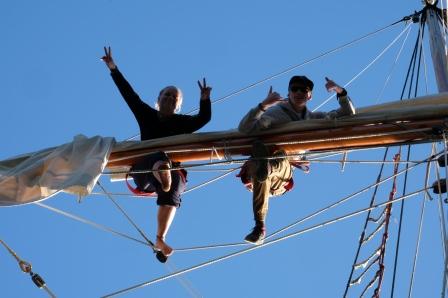 We awoke to a line of eager trainees ready to start the day with the morning swim.
The morning duties were then put into place after everyone enjoyed a nice warm shower, followed by breakfast.
The trainees took charge and hoisted the sails with the leadership of Ben, Trent, Simone, Grace and Dakota, then we set sail and headed towards Piercy Island (otherwise known as the Hole in the Rock).
At Piercy Island, the tender was placed in the water and everyone had the opportunity to physically go through the Hole in the Rock, we even adventured into some beautiful hidden caves we found on the sheltered side of the island.
Then, on we ventured to the scenic reserve close by, located in Deep Water Cove where Trent, Emma, Alex, Bailey, Etham, Bella, Grace, Dakota and Maea all took the opportunity to jump in and hand feed all the native and hungry fish. When we arrived back Trent and Emma were fearless and went straight into the Tucker Challenge. This is where they climb aloft, walk along the lower topsail yard and touch the yardarm (very end of the yard). They were shortly followed by Simone, Alex, Bailey, Etham, Bella, Chontelle and Grace, in the achievement! Congratulations to you guys!!! Hopefully we can get the last lot of trainees to complete it tomorrow.
As the sun slowly began to hide behind the hills we set course for our night's anchorage- Whau Point. On the way, under motor, we enjoyed an amazing dinner of corned beef, mashed potatoes and vegetables, squeezed in a quick lesson and an overview of what we learned today. Now we are currently going through our highs and lows, which will be followed by an hour of relax time and then lights out.
Goodnight!!