Deprecated
: Function create_function() is deprecated in
/var/www/vhosts/tucker.co.nz/httpdocs/wp-content/plugins/wp-spamshield/wp-spamshield.php
on line
2033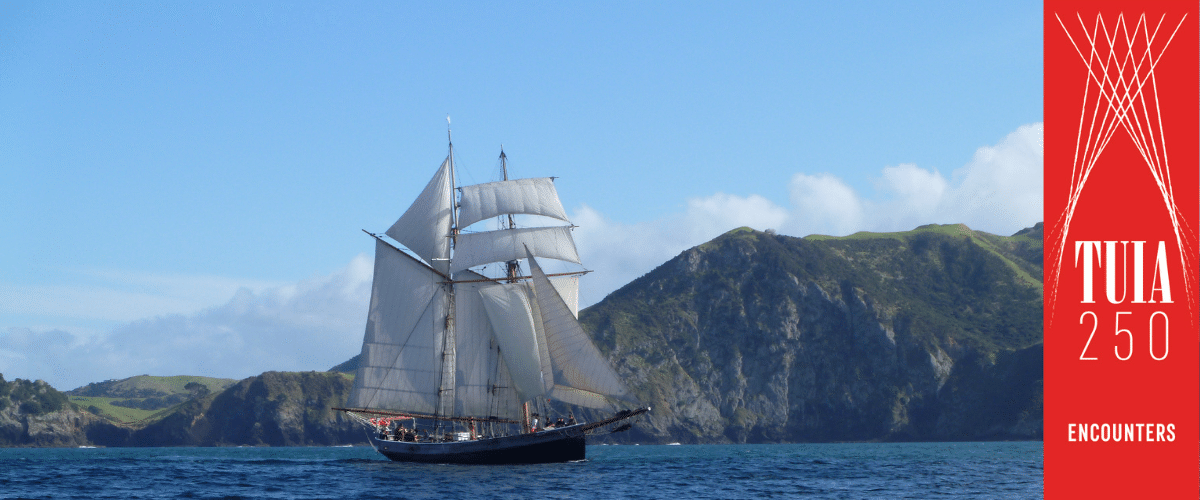 In 2019, Aotearoa New Zealand will acknowledge 250 years since the first onshore meetings between Māori and Europeans. Tuia – Encounters 250 (Tuia 250) is the national commemoration that recognises this milestone in our history.
A key part of the commemoration is the Tuia 250 Voyage. A flotilla of Pacific and European vessels will sail around the coast for a period of three months, between October and December 2019. The R. Tucker Thompson is proud to be participating in this once in a lifetime voyage which commemorates our dual voyaging heritage and looks forward to our shared future. 
The Tuia 250 Voyage will take the form of a flotilla of vessels – waka hourua, va'a tipaerua, heritage vessels and their crews sailing to and engaging communities throughout Aotearoa New Zealand, between October and December 2019. The voyage flotilla will promote the exceptional feats of Pacific, Māori and European voyaging that brought us together, while providing an opportunity to reflect on our complex history of migration and settlement, and a platform for us to think about how we navigate the future together.
The commemoration uses a Māori name (Tuia) and European concept of time and commemoration (Encounters 250). Tuia means 'to weave or bind together' and is drawn from a whakataukī (proverb) and karakia (ritual chant) that refers to the intangible bonds established between people when they work together. The logo references waka hourua (double-hulled voyaging canoes) and tall ship rigging, Pacific binding, raranga (weaving), the shape of a hull and the inter-lacing of our dual heritage. 
Nau mai, come sail with us! 
Applications are now open to New Zealanders 16 years and older for the opportunity to be on board one of the Flotilla vessels of the Tuia 250 Voyage where people will be able to gain voyaging experience alongside the working crew for one of the voyage legs.
These opportunities will be funded by Manatū Taonga Ministry for Culture and Heritage (MCH).
E tai mā, rangatahi mā! Piki mai ki runga i ngā waka o Tuia250.
E wātea ana ētehi tūranga ki runga i ngā waka hei te Whiringa-ā-nuku-Hakihea. 
Mēna nei e hiahia ana koe ki te whakatere waka, tēna tono mai!
E mihi ana ki te kaikanikani, a Manaia Puketapu. He kaumoana ia nō te waka o Te Matau a Māui (e kanikani ana i runga i a Ngāhiraka Mai Tawhiti).
Step 1:
Read and understand all the information in these two documents:
Which are also available in te reo Māori.
Step 2
Complete one of the applications forms below
Sail Trainee application form for voyage
Puka Tono Tauira Terenga Waka o Tuia 250
Step 3:
Attach one of the following forms of verified identification:
A verified copy of a valid passport
OR
A verified copy of a birth certificate, expired passport or gun license AND a verified copy of a valid form of photo ID (driver's license, student ID or 18+ card)
* To verify your identification you'll need to get your identification sighted by a Justice of the Peace (JP), lawyer, school principal, work supervisor, a council staff member or police officer. They should sign a copy of your identification with their name, role, signature and phone number. Remember to take along the original as well, as they will need to sight it before they sign. More information in our FAQs. 
Step 4:
Email your completed application form and your verified identification to tuia250.trainees@mch.govt.nz. 
Put the words 'Tuia 250 Voyage Trainee' in the email subject line, as well as your region, your city or district, and your full name.