Kia Ora Whanau,
As we didn't have great internet reception yesterday we'll fill you in on what we did over the last two days.
It was a glorious sunny but crisp day yesterday morning as we boarded our trainees for the Far North Holdings Leadership Tucker Voyage. It was mostly girls with two token boys this time 'around – this makes a change from the previous voyage where the only boy on board was the skipper!
Our trainees raised the foresail and we set sail north towards the Cavalli Islands. On the way we practiced our first drill – man overboard. After successfully rescuing our man overboard victim we completed our Treaty or our contract of conduct on the ship which we all will follow. This reminds us that because we live in such close quarters on board we all need to be respectful of each other and of our home, the R. Tucker Thompson.
Before we knew it, it was time to anchor just off Motukawanui and head to shore for our thirty minutes of silence and some free time before heading back on board for dinner. Hori and Blue managed to fish out ten kina for a snack before tea. Tea was a scrumptious cottage pie followed by a birthday cake served up to celebrate Brittany's seventeenth birthday.
Today started nice and early with our ritual morning swim. We had a few nervous trainees but we all jumped in! The water is much warmer than the air temperature – a tropical 19oC. After our swim it was breakfast and chores followed by some diving and swimming. We also did another routine drill today, abandon ship. As we were all huddled together in our small dinghy (Tucker Ferry) we contemplated just how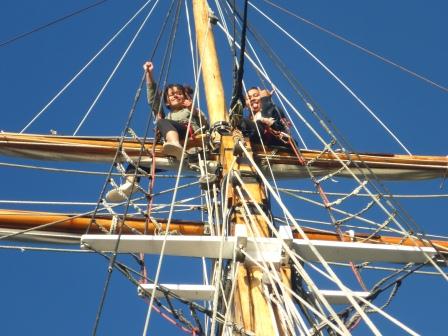 tricky it would be to survive out on the water if things went wrong. That's why we have drills, to get heaps of practice. Our trainees and crew managed to complete an abandon ship in five minutes flat, which is pretty impressive!
Wayne, one of our crew, managed to catch a great looking snapper and some of our trainees also fished out some more kina for lunch. Today three of our trainees (Mouhir, Forest and Maahina) successfully managed to complete the Tucker Challenge which involves climbing up the rigging all the way to the lower topsail and touching the yard arm – a feet only for the brave! They get a flash turks head anklet or bracelet made by our crew to commemorate the achievement.
Right now our trainees have set sail and we're making our way to Whangaroa Harbour for the night where will do a few more lessons and exploring before we tuck in to dinner and rest for the night.
We'll see you all tomorrow!