This morning started off with our ritual morning swim in the warm waters of Whangaroa Harbour. Waking up to such stunning scenery reminds us all how lucky we are to live in such a beautiful place.
After swimming it was breakfast and chores and heading ashore to attempt the Duke's Nose walk however we were warned by the occupants of the DOC hut that the track was closed, so an alternative had to be found. Crew member Terry suggested he knew a great track to some historic New Zealand war bunkers so we found a suitable landing at Takahi Point to make our way up to the bunker. We set off on the path to find that it was somewhat overgrown, so w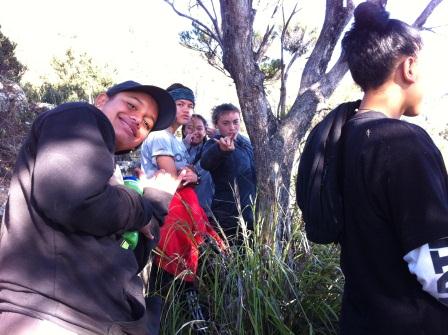 e ended up clearing our own path through the gorse gaining associated scratches in the process, until we reached the bunker. A series of bunkers were set up at Takahi Point during the Second World War to fend off attack by the Japanese, but they luckily didn't get that far.
The walk back down to the shore was less taxing as we managed to find the magical track that Terry described – for a while we thought he was pulling our leg! Captain Sarianna rescued us from the shore and it was back on board and lunch before motoring further along and setting up anchor at Arrow Rock. Hori, Nicola, Blue, Forest, Brittany, Maahina, Tuuriri, Mouhnir all headed off to do some diving with Billie, Shadonaye and Gianni remaining behind to tackle the Tucker Challenge. All managed to succeed with the exception of Billie who rested on the bowsprit to take in the view. Once back on board Nicola also managed to squeeze in the challenge which was impressive considering she has a fear of heights, well done Nicola!
Once everyone was back on board and we upped anchor and headed to Papatara Bay. Whilst we were underway we split our trainees into groups to learn more about life at sea with some trainees tackling navigation and plotting a course, other trainees learning about weather forecasting and the remaining group ensuring the ship was on course by helming correctly – not as easy as it looks!
Once anchored at Papatara Bay we settled in for the night with some crayfish (freshly caught by our crew member Wayne) followed by dinner. Hori also managed to complete the Tucker Challenge just before the sun set!
There's just room for a lesson on fishing regulations before tucking into bed. Another pretty full day on Tucker – we'll see you all tomorrow!