We decided the trainees could have a slight sleep in today due to the gloomy weather.
As everyone awoke it was only seconds before they got into the water, excited to have their nice warm morning shower.
We continued with the morning duties before our delicious breakfast was prepared and then we offered for people to partake in the Tucker Challenge.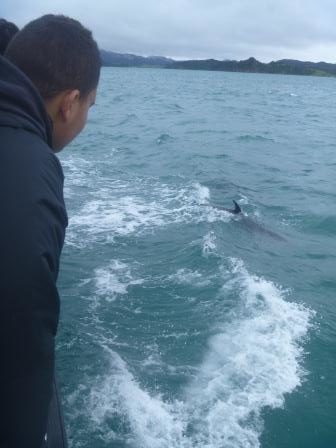 After hearing the thunder we were slightly hesitant on whether the trainees would get to achieve the Tucker Challenge today. Luckily the weather was in our favour and partially cleared up enough for Chantelle, Tyla, Maya, Jamie, Cailee and Ben to complete the challenge. Congratulations guys!!
We set off for a tiki tour around Robertson Island where we hit three meter swells which the trainees were ecstatic about.
On the way we bumped into an interactive pod of dolphins which some trainees were lucky enough to get quite a close encounter with as the dolphins played beneath their feet on the bowsprit.
We are currently headed towards our anchorage for the night in Parekura Bay which unfortunately lacks reception. Also awaiting our delicious lunch of potato bake and frittata.
For dinner we are planning to have boil up and hopefully as we anchor more people might want to complete the Tucker Challenge.
From us on the Tucker,
Goodnight!!