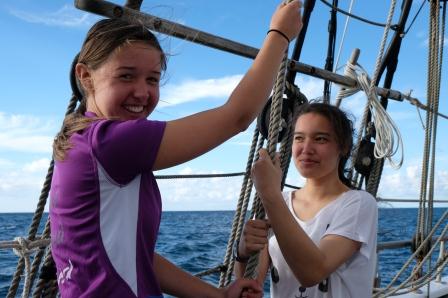 Hi all!
As we anchored last night in darkness, we had the fun of waking up to a new view, and a refreshing (for some) swim.
The trainees are working in very well, and we were able to depart our anchorage early – heading for Waewaetorea Passage, under motor whilst we completed some classes in the Phonetic Language (used for radio communications) and Recreational Fishing knowledge.
The stop at Waewaetorea Passage allowed all, except a couple of crew members, to head ashore for a walk and special swim. Taken to a secret location, all the trainees braved the darkness and water to enter the "Cave" which lead out into a beautiful cove. Rather special! Everyone enjoyed a swim, snorkel and jumping off the rocks. Although Ben didn't want to enter through the cave at first, he conquered the fear and went through with some supportive friends on the return.
Grace, Emma, Alex, Trent, Chontelle, and Simone took the ride in the little boat back to the ship. Meanwhile, Ben, Etham, Maea, Dakota, and Bella chose to swim the whole way back with Chynna. Back on board the rope swing was used by those who still wanted to swim and those cold people went below to make hot chocolates for everyone. This was just the morning.
After an awesome lunch, we got ready to sail, with Alex, Trent and Emma heading aloft to help loose our square topsails. Alex has been christened our 'Rig Bird' as she only wants to come down for dinner.
Once sails were up, it was time to learn to tack, with all trainees moving from sail station to sail station to understand how each sail is angled to accomplish the maneuver. They have now been challenged to sail the ship by themselves on the last day. Amidst all this work, several trainees had time to try the helm: Maea, Ben, Chontelle, Trent, and Alex, to name a few. A busy day for all, and very successful, with trainees now accomplishing most tasks with only minimal input from crew.
We are now anchored in Orokawa Bay for the night, a safe anchorage as we anticipate a bit of a blow overnight. Another experience for our trainees to enjoy!