Ahoy there!
We have come out of Whangamumu harbor to do a bit of sailing after a shore excursion around the old whaling station.
This morning's swim call was led by a very enthusiastic Quintin who "took one for the team" and jumped in first, quickly letting his shipmates know the water was "all goods".
After chores and breakfast, the trainees went through their manuals and covered all of the activities done so far in the booklets. Everyone helped each other out with the activities, so book work was done in no time!
Once ashore, Claudia and Accacia led the team in beach clean up, with everyone getting a fair collection of rubbish. Some one had been there before us and did quite a big clean up, so we collected ours and made the pile a bit neater.
After that, Declan, Lyse and Dylan led the walk up the track which took us to a gorgeous lookout over the bay and the ship. Over at the whaling station, everyone climbed a narrow track to the waterfall where back in the day, the whalers would wash up after a days work. A few of us tested the water, but we weren't quite brave enough to go in!
Right now, we are about to go for a bit of a sail for a few hours, learn some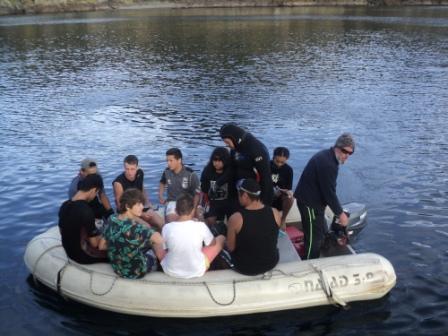 maneuvers, (tacking and wearing) then back to anchor at Whangamumu where we might try out some more fishing!