Ahoy from the happy ship R. Tucker Thompson. Bright blue skies and flat seas welcomed the sunrise and made perfect conditions for our morning swim, everyone jumped in with a minimum of grumbling and then we all tucked into our morning duties. How the brass gleamed in the morning sun after its polish and with a small stretch of the imagination one could see the steam rising off the deck after it had been wetted down and brushed. A quick brekky and we upped anchor and made the short passage across to Mimiwhangata. We all landed through the small surf and wandered up and over the hill to Okupe Beach, here we were out of the wind and chose to spend our 30 minutes of silence spread out and walking slowly along the beach which was vast at extreme low tide. Everyone found something to interest themselves as we wondered along. Magnus, Boston and Tangaroa climbed up a rocky little headland at the end of the beach to take in the full view. Kali, Hayley, Caitlin, Emmanuel, Boston and Tangaroa all played games of checkers on boards marked out on the sand. Catlalina relaxed in the sun whilst turning through the pages of her book. The first flecks of rain and gusts of wind were our cue to head back over to Mimiwhangata, although in the end the real weather took a while to come in,  allowing everyone to get involved in a game of beach cricket.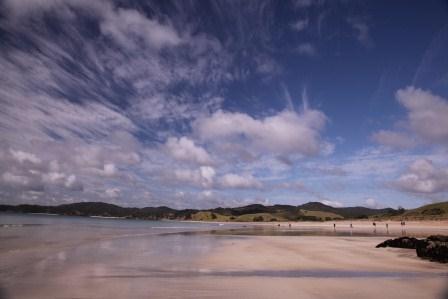 Once back on board we headed north to drop anchor off of Cape Home. Snorkelling was on the afternoon schedule and Jonothan, Tangaroa and Kali all went on an epic mission through the rocks whilst Wayne, Magnus and Eloise went foraging for Kaimoana… Crayfish are on the menu again!
Whilst these guys were getting dinner ready under water. Boston, Emmanuel, Hayley, Caitlin and Cole all got busy in the galley, baking a superb Madeira Cake with a fantastic Lemon icing.
All of this done we upped anchor again to get into real shelter for what's forecast to be a windy night. Now anchored in behind Motukauri Island in the Whangaruru Harbour dinner is smelling great as it bubbles on the stove and the trainees are crammed in round the table, Ukeleles out, writing a song . Ka Kite
Save