Taipa Area School reclaim the trophy
The team (Oshean Ashby and Alexandra Simons) from Taipa Area School won this year's 'Te Tai Tokerau Tall Ship Challenge.
Team Taipa's Oshean and Alexandra demonstrated outstanding teamwork and a broad range of skills between them to emerge as the deserved winners. Josh Otene and Samuel Bourke from Pompallier Catholic College were runners up.
The trophy was challenged by 6 teams of two.  The other teams were:
Whangarei Girls School 

Dargaville High School 

TKKM o Hokianga

Okaihau College 
Students sailed from Opua to Whangarei's Port Nikau over seven days, with winds in their favour as they explored Cape Brett, Whangamumu, Mimiwhangata, Poor Knights and Tutukaka along the way.
Highlights of the voyage included a thorough exploration in the tender of Poor Knights Islands while learning about the history, tendering through the Hole in the Rock and diving out at Cape Brett, and an exhilarating sail from Tutukaka to Whangarei Heads.
Thank you as always to our wonderful sponsors Northpower and Top Energy.
The ultimate leadership challenge!
It's the 11th year for the Taitokerau Tallship Challenge sponsored by Northpower and Top Energy and we are proud to have them as our sponsors. This is a competition to find out which school team can demonstrate they have what it takes in terms of leadership, initiative and of course teamwork.
Teamwork will play an important part for the selection of the winning school, and the winning team will also demonstrate that they can work not just with the partner from their own school, but also members from other schools to complete their tasks. There will be physical hard work, some mental challenges as well as a lot of fun.
Challenges set during the 7-day voyage will be based on a range of activities such as sailing, physical activity, standard of daily drills and duties, swimming as well as positive interactions between others. They will also need to demonstrate that they understand Safety at Sea and how they can work together to ensure they complete the challenges in a safe and responsible way.
The Tai Tokerau Tall Ship Challenge will be held once a year and is open to all schools with secondary aged students. School places are allocated as follows:
Whangarei District / Kaipara districts (3 places)
Far North District (2 places)
Any Northland school (1 place)
Only 6 schools can compete so schools wanting to enter will need to register their interest as soon as possible. For more information, or to register your school's interest please complete the application form.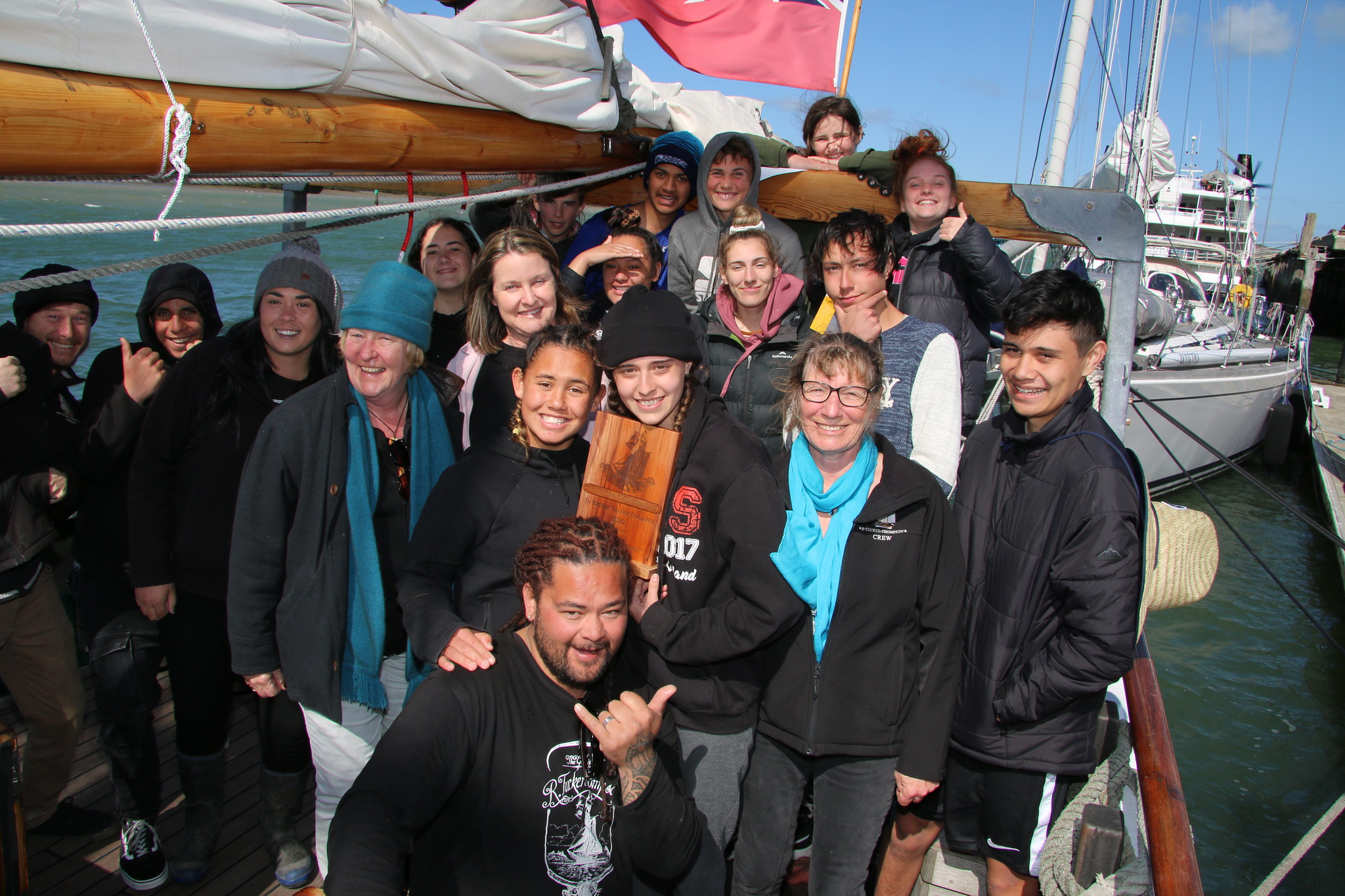 Previous winners
Previous winners are:
Kaitaia (2019)
Taipa Area School (2018)
Huanui School (2017)
Huanui School (2016)
Opononi Area School (2015)
Kaitaia College (2014)
Huanui School (2013)
Dargaville High School (2012)
Whangarei Boys (2011)
Bream Bay College (2010)
I also feel I have learnt so many things about the boat and myself
Download your poster here
Download poster!
Download a copy of the Taitokerau Tallship Challenge poster for your school here
Download your entry form now!