From the Good Ship R. Tucker Thompson on passage once more. So we managed to navigate our way from Man O War bay, rejoining the fleet in the channel off Maretai. Foresail hoisted for stability engine providing the power. The southwesterly right on the nose giving...
read more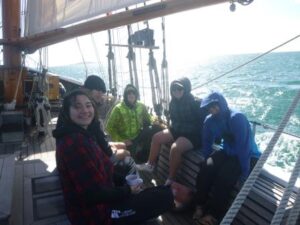 Toru ra Tuia 250  Whitianga to Maraetai From the Good Ship R.Tucker Thompson, aue.  Apologies for lateness of this but we had a huge day yesterday coming up the coast. We were up and tackling duties having breakfast doing dishes preparing for a big day at sea. Then...
read more
If you wish to subscribe to our Blogs using our feed click here or on the RSS icon at the top of the page. Select the Live Bookmarks option and then your bookmark will be updated when a new blog has been written.
To view the ship's location, check out Marinetraffic.com
---
Samuel's experience was overwhelmingly positive, he is still talking about the voyage. It has impacted his life significantly, and I suspect in years to come he will reflect on this experience as a pivotal point in his development.
Rua Ra From the Good Ship R.Tucker Thompson. At sea once more after loading trainees yesterday afternoon, a quiet night at the dock we woke to duties on board. Sweep and mop below decks and polish the brass of compass, skylight and hatch brass. A hearty breakfast was...
read more