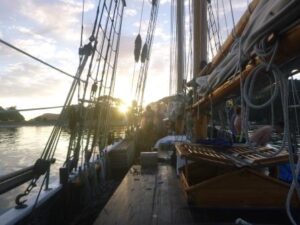 Last full day on the R Tucker Thompson, It started like most days, with the sun pointing its head over the hill, the soft lighting, and the famous morning swim followed by a steaming hot shower. This photo illustrates perfectly what our mornings look like on deck....
read more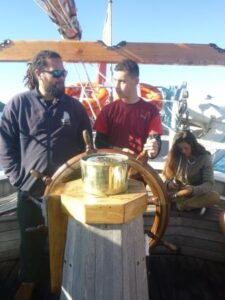 Greetings from all of us on the R Tucker Thompson, A unanimous decision was made last night about having a half hour sleep in, this morning, so it gave the sun enough time to shine on deck from behind the hills around Paradise Bay. So at 8am, the trainees slowly rose...
read more
If you wish to subscribe to our Blogs using our feed click here or on the RSS icon at the top of the page. Select the Live Bookmarks option and then your bookmark will be updated when a new blog has been written.
To view the ship's location, check out Marinetraffic.com
---
Samuel's experience was overwhelmingly positive, he is still talking about the voyage. It has impacted his life significantly, and I suspect in years to come he will reflect on this experience as a pivotal point in his development.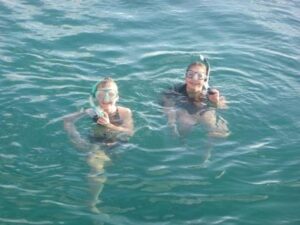 Greetings from the good ship, It's been another beautiful day in paradise, with loads of sunshine, loads of fun, but very little wind. The morning swim was a bit cold as we jumped into the day, but it warmed up quickly as we did our lessons about weather patterns down...
read more