Ono Ra
Ahoij from the Good Ship R.Tucker Thompson, with a ship full of happy faces, stories, memories of the week past, and contemplate the excitement of tomorrow's homecoming. 1400 at Marsden Cove remember!!!
Today started with the traditional morning splash and chores.  Well into the routine now, trainees inspecting each others level of competency with praise and respect. All day to go not very far, the opportunity to take out The Tucker Challenge saw Jacob, Lilli, Tamika, Eli, Hendrix and Repana crack it aloft. Quick class to mop up the last of the book work before the Trainees took over the ship. Organised themselves to unfurl topsails, hoist main and fore while the crew negotiated lifting the anchor. A light breeze filled into Kowhawera bay, headsails hoisted, topsails lowered and we set course for Hauturu in the first instance, a smud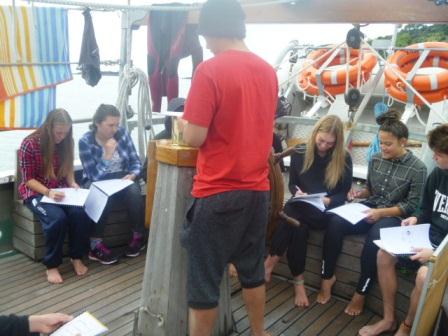 ge on the horizon. Holly again in the galley helping with lunch,  we journeyed south east, Hendrix on the helm, passed to Tamika, David and Jacob up on the yards, Ethan out on the bowsprit, Kahu and Zeran joking about, Repana and Eli still talking up the kina, Hannah chilling. Nothing else to report, but a stray penguin, at 1500 we wore to starboard to bear down on Whangarei Heads and our overnight anchorage at Smugglers Cove.
Sails quietly lowered and stowed, everyone knows their tasks, carried out diligently. Then Lil Tuck was launched for some more laughs and good times. Hatches begin to close as the night settles around us, the aroma of the pork roast is a constant point of discussion as the trainees come below in preparation for the last night. It's been a great voyage, trainees have moulded into a tight unit of new sailing buddies, for life. Catchya on the jetty.
Po marie