Kia Ora friends and family.
It was a clear blue sky as we awoke for our refreshing morning dip. Chores were a breeze and breakfast went down well before we lowered the dinghy and made our way to the beach at Mimiwhangata. To make the most of the nice soft sand we played a game of bat down, made sand castles, built forts and Ethan even managed to save a stranded octopus. After the beach games we went for a "walk of silence" for 30 minutes, walking the length of the beach and back while soaking in the sunshine.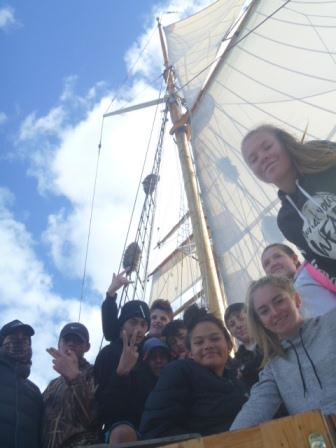 Pizza was ready waiting for lunch when everyone returned to the ship. As the lunch dishes were being done, Ethan and David helped to unfurl the lower topsail in preparation to go out for a sail. We upped anchor, set the mainsail, foresail, headsails, lower topsail, gaff sail, and the course sail and took advantage of the cool 10 knot Southerly breeze. Tacking back and forth we eventually made our way back into Mimiwhangata Bay where we still had some daylight to spare for a dive. Tammy, Holly, Repana, Hendrix, Jacob and Eli all suited up where Captain Tim escorted them in the dinghy to a nice rock with plenty of fat kina! While most of the trainees were diving, Kahu, Zeran, Ethan and David had a go at rowing Lil Tuc.
We are staying in Mimiwhangata for the night, preparing for our dinner of boil up and fresh Takako bread made by Repana and Hendrix. Tomorrow we have a big day planned, with an early start heading to the Poor Knights Islands! So stay tuned!