Kia Ora Family and Friends
This morning we boarded the ship with 12 new trainees for this year's Tai Tokerau challenge voyage. After we said our farewells to family and friends, we cast off and made our way up the Marsden Cove channel. Our eager trainees raised the foresail before we gathered around the helm to get to know each other with the name game. We split the trainees up into two watches, Port and Starboard where we took them through the ship above and below deck.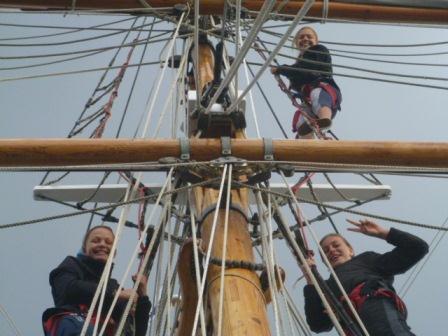 A hot soup lunch was enjoyed on deck as we made our way up the coast towards Tutukaka. Plenty of laughs and giggles were had as the trainees climbed aloft and out on the bowsprit before we dropped anchor in Tutukaka Harbour where we will stay for the night.
Just before the sunset Pippa, Emmanuel, Tove, Teaghan, Miriama, Jeanna and Svea tested the Tutukaka waters and enjoyed the rope swing. As the night set in we gathered in the saloon and introduced our new trainees with their voyage workbook and the Tucker Treaty before we had a 30 minutes of silence.
A nice easy start for the first day getting to know each other and the ship before we get into the challenges tomorrow, how exciting!