This morning started just as always with a morning swim in the tropical waters of Mimiwhangata Bay. After a scrumptious breakfast and our routine chores it was straight into competition for the Tai Tokerau Trophy with Little Tuc races. The Little Tuc races involve rowing our dinghy around the anchored Tucker – easier said than done. This series of races used waka ama paddles instead of rowing oars just to make it that little bit more challenging. The first lap was craftily demonstrated by Skipper Tim and Janna with a very impressive score of 38.16 seconds. The trainees however weren't far behind with the second best time being 43.37 seconds.
A special challenge lay in wait for the trainees with a surprise bunk inspection conducted by Skipper Tim to test out our trainees' ability to adapt to life at sea. Cleanliness was traditionally very important aboard tall ships to minimise the occurrence of disease as was having a wash – however not many sailors could swim so our morning swims are very much a modern tradition!
A final challenge before lunch was the heaving line challenge. Heaving lines are lines with weighted ends that are traditionally used to 'heave in' heavy lines such as mooring lines. They can be quite tricky to throw and our trainees discovered that this morning whilst trying to throw a heaving line end into a suspended buoy alongside Tucker.
We squeezed in some time for a morning swim whilst Emmanuel, Meriama, Taliyah and Sheree went for a paddle in Little Tuc and chatted to a kayaker out on the water. Some of the rest of our trainees also completed the Tucker Challenge – Tove, Teaghan, Pippa, Lucy and raced up the shrouds with Svea following, touching the yard arms on the lower topsail with ease (clearly budding tall ship sailors).
Just before lunch we pulled up the anchor and motored closer into the beach and came ashore on Tucker Ferry and Little Tuc to complete some beach competitions. First off we did some relay racing and Tucker rope competition Taipa, Kaitaia, Okaihau(Top Energy) vs. Dargaville, Huanui, and Whangarai Girls(North Power).A fitting pull off between our Sponsors of the Tai tokerau Challenge. This was followed by a fantastic sand castle competition with some very impressive creative designs ranging from miniature sculptures and drawings of R. Tucker Thompson and Little Tuc to mermaids, octopus and more traditional sand castles.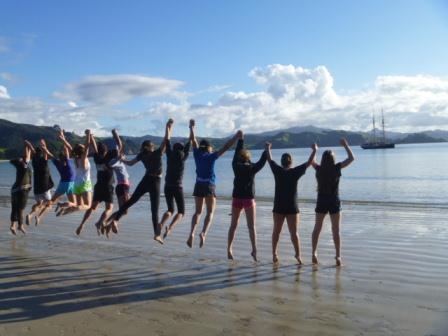 The afternoon drew to a close with a long beach walk and dinner back on the Tucker carefully constructed by Skipper Tim. The second round of the baking competition was held with Lucy and Pippa constructing a chocolate afghan slice – actually we're not quite sure what it is however it's slathered in chocolate sauce which is always a winner.
We're all in agreement, it's definitely been another day in paradise!