Skipper Tim had enticed us all last night with a very early morning wakeup call in order to watch the sun rise however this was stifled by some early morning lightning and thunderstorms. It was a very short breakfast and a real bumpy ride in the morning as we pulled out of Mimiwhangata right into a small storm. It was an interesting sail training experience for our trainees putting up the gaff and headsails whilst the ship rolled heavily – you had to make sure you were holding on tight!
As the rained poured onto the deck and the swelled rolled over the bulwarks, we all huddled at the stern to avoid sea sickness down below and sung our way through the storm headed by Emmanuel and Miriama on lead vocals.
It felt like forever sailing in the wet however we made it just as the storm was dying off to see the Hole in the Rock and Skipper Tim tooted our entrance into the Bay of Islands, everyone cheered. We passed our first sign of civilisation since leaving Whangarei – the Chocolate Boat. Skipper Tim suggested that if we waved hard enough they'd send us emergency chocolate rations, a rare luxury on board. It was in fact the Great Sights tourism boat out for a trip along the bay with some very brave wet tourists.
We navigated our way into Paradise Bay and took some time to dry off. We had some classroom work with lessons in the Phonetic Alphabet, knots and line handling in preparation for competitions later in the week.
The sun peeped out for a moment and we all took the chance to head out onto the beach on Paradise Bay for a short hike. We saw nesting shags and a few saddlebacks. Our trip to Paradise Bay gave an opportunity for our trainees to have a lesson in biosecurity in the Bay of Islands. Paradise Bay is nearly pest-free with ink pads and rat bait laid out along the foreshore to eradicate pest species such as black rats. Once the area becomes pest-free, there is opportunity for the release of native species to rejuvenate the local fauna and flora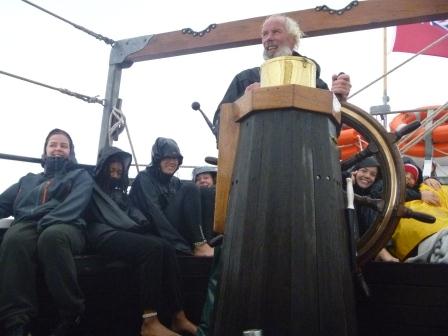 .
Once back aboard it was time for Day 3 of the baking contest with chocolate brownie on offer this time 'round carefully crafted by Taliyah and Sheree, followed by a boil up dinner.
The Tai Tokerau Challenge is at an interesting stage with School Teams competing well, only 9 points separate first and sixth. It will finish in a flurry as the final scores close or increase nearing the finale of the Tucker Quiz to be held early Monday morning. So who will be first team to swim in the morning, have we yet to find the best brass polisher, can the bunks get any tidier, how much more yummy desserts can we eat, and who will win the most laughter prize. Will let you know……
We're all hoping tomorrow brings better sunnier weather and plenty more competitions and of course sailing!