After a farewell at Opua from friends, family and sponsors Far North Holdings, the perfect weather enticed our good ship north to head for the stunning Cavalli Islands…. what an adventure!
Day 1 is always a day for orientation, the time for whakawhanaungatanga or getting to know each other, but with stunning weather and beautiful breezes the call to head out of the Bay and go north was irresistible. So with the safety briefings complete and the trainees introduced, our good ship has headed north and are now anchored Motukawanui for the night.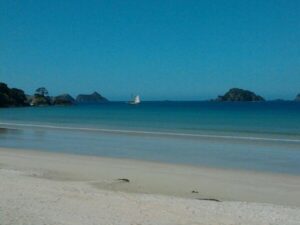 Trainees are being introduced into life on board, with an Abandon Ship routine this afternoon, not that we want to really abandon our good ship! But it's great to know that in the event of any emergency everyone is ready and knows what to do. This evening we will sit down together to enjoy a delicious dinner, having gone through our Treaty. That's our pledge about how we will respect each other, the ship and the crew – it's our way of making sure that we have an amazing week together,
Tomorrow we have our first early morning swim and a few of the trainees are nervous already! But in the meantime, we are safe and snug tonight for our first night of our big adventure…. so Pomarie whanau!