We started the morning off to a light rain shower, but despite that we all eagerly wanted to do the morning swim. We finished the swim with hot showers all round and then headed off to start our normal morning duties.
After breakfast we motored to Otiao Bay, launched the tender, and completed one of the loop tracks on Urupukapuka Island.
Whe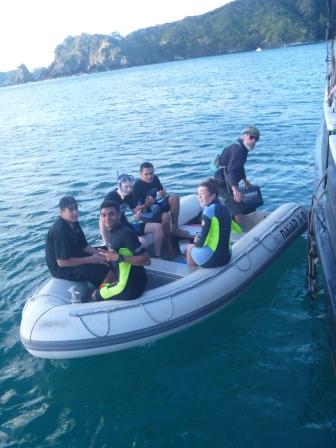 n we arrived back on the R Tucker Thompson, hot steaming pizzas were awaiting the trainees arrival. After lunch, again we hoisted the anchor and motored towards our night anchorage at Waiwhapuku Bay, Moturua Island.
Before arriving on shore we took the trainees through another recap on knots.
Once again we launched the tender and decided to take the trainees on a historical walk up to one of the pa sites where an old school army bunker lives.
We spent a good half an hour having a good look around the bunker and taking in the beautiful scenery… until the boys began to think it was a good idea to chase after the girls with gorse…
After all the fun and games it was getting late, and with the large day of exercise the trainees decided it was a good idea to have a relaxing afternoon of snorkelling Lily, Amorangi, Logan, Jared and Nabeel diving for kina, Cameron, David, Karlos, Kateao and Nicki, were showing off their manu skills, Erin and Kaea helping Wayne in the galley.
For afternoon tea we enjoyed an amazing lemon and honey drink along with a yummy afghan slice that Kateao and Cameron made.
We are now awaiting our mouth-watering pork roast dinner as all the trainees spending their last night bonding and having a good laugh.
Good night, see you all tomorrow!