Ahoj from the Good Ship R.Tucker Thompson, we have enjoyed a rain less day with lots of adventures squeezed in after all the class room activities of recent days. Morning swim in calm conditions for the first time and the hint of ra through the high cloud. Anchor up during breakfast, hovering low cloud lifting as we set off  to meet a delivery off Great Sights and we traded that for some dolphin we encountered along the way. Fair Trade.  Kaea, Amorangi Jared, Karlos and Nicki added a haka on request for the tourists who were very responsi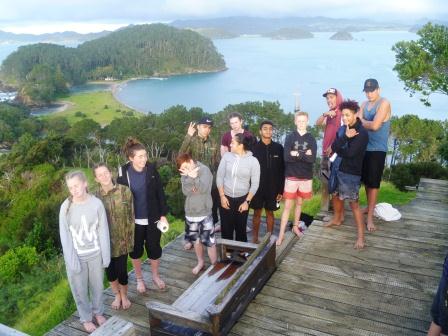 ve with their applause.
Then we were off for beach sports or a chat under a tree as time ashore was much appreciated after our days below decks. Lil Tuck was lowered by halyard and Nabeel, Cameron and David headed for shore. The calm morning continued then back on board for lunch and Karlos helps again with getting the anchor up, foresail and headsails hoisted by Logan, Kaea, Lilli with Erin offering sedentary support, and off to Motuarohia and some more island time. With a hearty lemon and honey and fresh chocolate chip cookies along the way, we were soon all ashore and  for our silent time walked  up to the lookout to see where we had been spending our days. The seas still smashed the exposed rock faces making for good viewing and thought time.
Back to the beach for clothes peg hunt and exploration time, the pegs are traded for chocolate fish, to replace the ones we lost during the week. The sun lowered, the beach in shadow,  we ferried back out to the ship, anchor up and off to our overnight anchorage, Awaawaroa Bay on dusk. Time for a class as dinner cooks, dessert is already prepared earlier by Kateao and Cameron.
Ma te wa