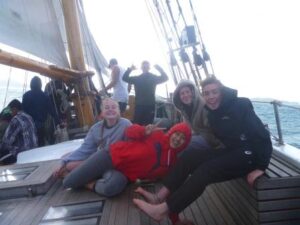 Kia Ora Whanau.
The day started with the trainees enduring their first refreshing dip in the cool waters of Opunga Cove. Chores were completed with Logan and Kaea spending some extra time ensuring the brass was super shiny. After breakfast was scoffed and the dishes were cleared we split the trainees into their port and starboard teams to orientate them to the ship, lines and sails including how to handle them correctly.
A bit of free time fun and games were had before the clouds parted to make way for some blue skies and sun! To take advantage of this, we upped anchor, set the foresail, inner and outer headsails and made our way towards Urupukapuka Island. Screaming and laughing was heard along the way as the ship swayed with the 30 knot wind gusts howling through the Bay, this made for an exciting sail.
A belly warming Veggie Lasagne was ready as we arrived into Paradise Bay which went down well. After dishes were done, we low
ered the tender into the water and made our way to shore to explore Urupukapuka Island. With Nicky in the lead we made our way up the steep hills while having our 30 minutes of silence. We arrived to the cliffs on the other side of the Island where we spent some time overlooking the stormy seas below us, grateful that we were safe in the Bay! On our way back we stopped in at Whangapau Pa for some weed control, pulling any invasive wattle weeds we could get our hands on.
Back on the ship now, we upped anchor to set sail back to Opunga Cove to shelter from the forecasted overnight winds. A lesson was had on latitude and longitude before some more fun and games before dinner. Another great day, and we hope the sun makes another visit tomorrow!