This morning was yet again, a wet start to the day. Instead of the normal routine morning swim we went straight into morning duties.This was shortly followed by a large breakfast to fuel the trainees' minds and have them ready to start the day's class session. We discussed weather and tides, and how they work, recreational fish regulations and completed a few quizzes.
We enjoyed an amazing curry for lunch and then set sail and headed towards Urupukapuka Bay. On arrival we launched the tender and headed for the beach where we played many group activities. David and Cameron started a back-flip competition while Nicki got competitive with long jump, Nabeel managed to jump the furthest out of everyone. Everyone also participated in the 30 minutes of silence, spending some time with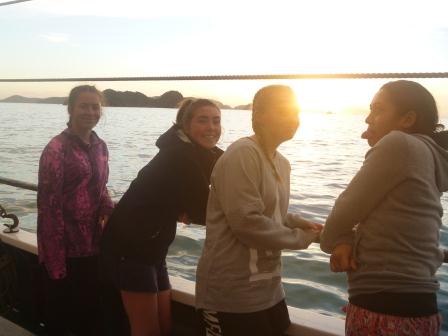 the nearest tree.
Once we arrived back to the Tucker, David, Cameron, Jared, Karlos and Nabeel went straight into the water, with Kateao following not long after. When everyone became dry and settled we hoisted anchor and set sail once again. Along the trip the trainees devoured an amazing cup of lemon and honey tea with a ginger slice on the side. The sunshine also finally decided to come out and say hello.
We are now anchored in Opunga Cove, awaiting a hot steaming corned beef silverside dinner.
Pomarie, Goodnight!!