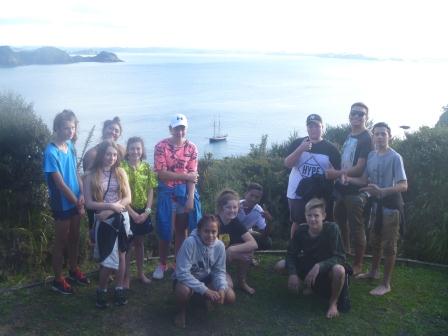 Today has been a really good start to the voyage.
With calm seas and sunny skies, we set off from Opua and played a name game on our way over to Moturua Island.
After the anchor was dropped, we had a yum lunch of mac'n'cheese to fuel us for our walk around the island.
After lunch, we launched the tender and headed towards the beach where everyone begun the walk around the whole island.
As we arrived back on the Tucker, almost everyone went for a swim and a climb up in the rigging. Dean and Jamor showed off their skills on the rope swing and CJ was a mermaid in the water.
Now we are anchored up in the beautiful Parenui Bay with calm seas and a sunset.
Amy, Croydon and Dean even had some time to complete the Tucker Challenge, well done guys.
We are now completing the 30 minutes of silence awaiting a scrumptious spaghetti bolognaise for dinner.
Goodnight!